Lagarde Takes Stand a Final Time in Paris Negligence Trial
by
IMF chief tells judges that she acted in the public interest

Verdict will be issued Monday afternoon by Cour de Justice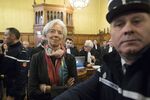 On the final day of her trial on decade-old negligence charges, International Monetary Fund Managing Director Christine Lagarde told a Paris court that she was diligent and acted in the public interest when she handled a multi-million euro dispute during her time as France's finance minister.
Lagarde told the court, which specializes in ministerial misconduct, that she carefully weighed her options before sending the case to arbitration. That decision led to a massive government payout to businessman Bernard Tapie, and she was also criticized for not seeking an annulment of the award.
"I read, sought advice, analyzed the risks and tried to assess the benefits and disadvantages," she said, in reference to information presented by her staff and legal opinions on the case. Court President Martine Ract-Madoux said the Cour de Justice de la Republique will give its verdict Dec. 19 at 3 p.m.
The trial has been an ongoing distraction to Lagarde's duties at the IMF. The institution was on the front lines of the effort to combat the global financial crisis and provides billions of dollars in loans to countries at risk of default. Prosecutors on Thursday said charges should be dropped for lack of evidence.
"In this case, as in all others, I acted in trust and with knowledge of the facts with the sole goal of defending the general interest," Lagarde said as she took the stand to make her final remarks. If convicted, Lagarde faces a maximum penalty of one year in prison and a fine of 15,000 euros ($15,700).
Adidas Sale
The case stems from former state-owned bank Credit Lyonnais's disagreement with Tapie over the 1993 sale of Adidas AG, which he owned. She is accused of not being sufficiently diligent when in 2007 she allowed the dispute to enter arbitration and didn't seek to overturn the subsequent decision to award 285 million euros to Tapie that led to a massive government payout.
The Tapie payout was cut to zero by an appeals court last year after doubts were cast on the impartiality of one of the three arbitrators, Pierre Estoup.
Lagarde said she had can't be held accountable for a suspected fraud she wasn't involved in and had no way of knowing about at the time she made her decisions.
"I never got any warning, in any way or from anyone, so I took decisions and I take responsibility for my decisions," Lagarde said in reference to the suspected fraud.
'Weak' Charges
On Thursday, the French prosecutor called on the court to dismiss the "weak" negligence charges against the 60-year-old IMF chief.
"Lagarde has been accused of things that don't relate to criminal law, but have to do simply with politics," Jean-Claude Marin said.
While it's rare but not entirely unusual in France for prosecutors to disagree with an indictment written by investigative magistrates, "it always gives an uneasy feeling," according Stephane Bonifassi, a criminal lawyer in Paris, who's not involved in the case.
A French prosecutor urged judges in 2015 to clear Lagarde's predecessor at the IMF, Dominique Strauss-Kahn, on charges of aggravated pimping after two weeks of hearings. Strauss-Kahn was eventually acquitted.
Earlier Friday, Lagarde's lawyer criticized Orange SA Chief Executive Officer Stephane Richard, who was chief of staff during her term as finance minister. He has been charged by investigative magistrates in a parallel criminal case that is still ongoing, which gives him the right to remain silent.
"Naturally, he had the choice to not come, it's his right," Patrick Maisonneuve said. "But I think that when your former minister has to face charges in court, morally one could expected to turn up."
Richard explained Wednesday's decision to not to testify by saying that his "silence could be interpreted as dodging the issue or, worse still, an admission of guilt, which I contest firmly."
Before it's here, it's on the Bloomberg Terminal.
LEARN MORE