Draghi Said to Warn EU Rising Global Rates Pose Crisis Risk
by
ECB President briefed European heads of state and government

Lack of reform and fiscal discipline seen as risks in 2017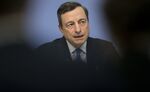 Mario Draghi warned European leaders that the combination of rising global interest rates and explosive politics could expose the euro area's underlying weaknesses, even as he painted an upbeat picture of the region's recovery.
The European Central Bank president highlighted the votes next year, a slowdown in reforms and some countries' lack of compliance with budget rules as factors that could threaten the return of conditions reminiscent of the turbulent years from 2010, according to a European Union official familiar with the meeting who asked not to be named because the discussions aren't public.
Draghi briefed EU leaders about the economy at a meeting of heads of state and government on Thursday in Brussels, and argued higher rates could leave countries that have failed to trim deficits with more to pay. On the broader outlook, he said conditions have improved everywhere in the region compared to the beginning of 2016, with a pick-up in investment and consumption supported by the ECB's monetary policy.
An ECB spokesman declined to comment on the remarks.
"Draghi is the one, and has always been the one, keeping the wolf from the door," said Richard Barwell, an economist at BNP Paribas Investment Partners in London. But "even Draghi can't insulate governments forever. Global factors can drive bond yields higher."
Draghi said 2017 was fraught with risk as the full impact of Brexit and of Donald Trump's election in the U.S. is yet to show. A rise in interest rates could put renewed pressure on countries with high debt that have failed to consolidate their budgets, he said. This stress could spread to the whole region as economic differences across countries have increased and structural reforms have ground to a halt.
While noting that price growth will accelerate significantly in coming months on the back of higher oil prices, Draghi stressed that underlying inflation still isn't accelerating, prompting the ECB to prolong its stimulus while reducing the pace of monthly asset purchases to 60 billion euros ($63 billion).
Before it's here, it's on the Bloomberg Terminal.
LEARN MORE