NYC Ethics Law Bans Mayor's Nonprofit Advocacy Fundraising
By
Council vote outlaws big donors doing business with the city

Measure implicitly rejects de Blasio's past fundraising moves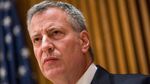 The New York City Council banned anyone doing business with the city from making large donations to nonprofit groups created by elected officials to promote their policies -- an implicit rebuke of Mayor Bill de Blasio.
The 51-member council, with three absentees, unanimously approved the legislation on Thursday to end the practice used by the mayor, which led to a federal investigation. De Blasio, a Democrat who faces re-election next year, has said he did nothing wrong and was acting legally after receiving advice from the city's Conflicts of Interest Board. He has also said he intends to shut down his nonprofit.
"It's not worth the distraction," he said during a news conference Tuesday. "I'm perfectly comfortable signing the bill."
Anyone doing business with the city will be barred from contributing more than $400 to any entity controlled by a locally elected official or their agents, and all donations would have to be disclosed on the website of the Conflicts of Interest Board. 
De Blasio's nonprofit, the Campaign for One New York, collected millions of dollars from unions, developers and lobbyists -- many of whom had deals pending before the city -- so the mayor could promote his universal all-day pre-kindergarten program to voters and state lawmakers in 2014. 
'Highest Standards'
Campaign for One New York voluntarily disclosed its donors, although in some cases the information lacked addresses or company affiliations. The law doesn't limit money-raising for an issue-oriented charity that spends less than 10 percent of its budget identifying with the politician who created it, and would exempt the philanthropic Mayor's Fund to Advance New York City, even though his wife, Chirlane McCray, is its chairwoman.
"Elected officials should be held to the highest standards and avoid even the appearance of impropriety," said Council Speaker Melissa Mark-Viverito, a fellow Democrat and frequent de Blasio ally. "That's why it's not appropriate for political groups controlled by elected officials to accept large donations from people who do business with the city."
The conduct has been the subject of a federal investigation overseen by Preet Bharara, the U.S. attorney in Manhattan, for several months. In October, the New York Times reported that the probe has focused on whether donors received favorable city actions in exchange for thousands of dollars in contributions to the Campaign for One New York. Much of the money raised for the group went to BerlinRosen, the public relations firm that has been a political consultant to de Blasio for several years. Jonathan Rosen, a principal of the firm, has said it acted properly.
City Business
The council vote followed a Dec. 10 New York Daily News investigation reporting that donors who had business with the city gave at least $3 million of the $4.3 million de Blasio raised for Campaign for One New York. The story detailed occasions when checks arrived within days of a city official's decision.
The fundraising tactic hasn't put the mayor at risk of losing his job. A Nov. 16 Quinnipiac University poll showed him leading his closest possible rival, former City Council Speaker Christine Quinn, 34 percent to 15 percent. A 47 percent to 47 percent split in his approval rating was de Blasio's best score since January.
"While he is vulnerable, there doesn't seem to be a really strong candidate to contest him at this point," said George Arzt, a Democratic political consultant who was press secretary to former Mayor Ed Koch. "Should anything happen with the investigations with a high-up person in the administration getting accused of a crime, he'd be wounded, and a lot of candidates would jump into the arena."
2017 Election
The federal probe, which is one of several investigations into de Blasio fundraising methods, prompted Bradley Tusk, a political consultant, to start a website, NYCDeservesBetter.com, to defeat de Blasio in 2017, even without enlisting a candidate. Tusk says he's not acting on behalf of his one-time boss, former Mayor Michael Bloomberg, who is founder and majority owner of Bloomberg News parent Bloomberg LP.
In an open letter to de Blasio on Monday, Tusk called on him to subject himself to an open-ended televised news conference to answer all the allegations in detail so that "by the end, it will be clear to the public that either you have acted honestly and ethically or that you did not."
During a news conference Tuesday, de Blasio, 55, said he shut down his non-profit fundraising operation in March because it had "achieved the goals" he intended: state funding for a pre-kindergarten program serving about 70,000 four-year-olds, and council approval of a citywide plan to use zoning changes to force developers to build more affordable housing.
He said he needed to raise millions of dollars after a coalition led by hedge-fund operators created their own well-financed campaign to challenge his agenda. Those attacks, which included television ads, criticized the mayor's opposition to charter schools, and didn't take a position on universal pre-kindergarten.
Before it's here, it's on the Bloomberg Terminal.
LEARN MORE