Guess Which Huge Asian Country Is Afraid of Capital Flight?
After years of encouraging foreign deals, China gets worried.
By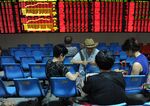 For years, China has encouraged its companies to make acquisitions overseas to gain access to new technology, brands, and management expertise. Under its "Go Abroad" policy, or zou chuqu, Beijing has loosened approval requirements for international deals and eased capital controls. In the first 10 months of 2016, outbound direct investment by Chinese enterprises reached $146 billion, up 53.3 percent from the same period a year ago, according to China's Ministry of Commerce.
That push may stall as Chinese regulators redouble efforts to clamp down on capital flight amid concern that a weakening currency could further spur outflows. China is planning sweeping curbs on its companies' overseas acquisitions, including barring most foreign investments of $10 billion or more, people with knowledge of the matter told Bloomberg in late November. Officials won't approve requests to bring yuan overseas for conversion into foreign currency without a valid business reason, according to people with knowledge of new measures drafted by the People's Bank of China. China's bureaucrats have also weighed in publicly: We will "crack down on false overseas investment activities," while ensuring "the legitimacy and authenticity of overseas direct investment," the State Administration of Foreign Exchange said in a Nov. 29 statement reported by Xinhua, China's official news agency.
Chinese authorities are "closely monitoring" transactions in areas such as real estate, hotels, studios, entertainment, and sports clubs for evidence of "irrational overseas investment tendencies," according to a Xinhua story that quoted Dec. 6 statements made by officials from the National Development and Reform Commission, the Ministry of Commerce, and other agencies. The pointed warnings come after months of quieter efforts to control cross-border money flows, including most recently a limit on the amount holders of China-issued cards can withdraw at a time from ATMs in Macau.
"The Chinese government has long been encouraging more active participation by Chinese companies in global markets, and the central bank has been liberalizing investment rules. This is a setback," says Fred Hu, chairman and founder of Primavera Capital Group, a Beijing-based investment firm. "This is going to create tremendous uncertainty and slow down outbound investment by all Chinese companies. The credibility of China Inc. will be badly damaged."
Concern that Chinese businesses are spiriting money abroad under the guise of foreign investment has grown among Chinese officials, particularly since financial outflows surged following a surprise 1.8 percent devaluation of the yuan in August 2015, says Thilo Hanemann, director and economist at the Rhodium Group, a New York-based consulting firm that monitors Chinese investment abroad.
The yuan fell to an eight-year low of 6.87 against the dollar in November, and China's financial authorities worry a too-rapid depreciation could encourage even more money to flee. "Policymakers are willing to see the currency weaken somewhat, but not too much," says Louis Kuijs, head of Asia economics at Oxford Economics in Hong Kong. A strengthening dollar—a byproduct of Donald Trump's election—and the U.S. Federal Reserve's Dec. 14 rate hike will put more pressure on the Chinese currency, Kuijs says.
Companies that invest outside their core business area and those that expand abroad rapidly will draw particular scrutiny from regulators, according to a foreign exchange official quoted in a Dec. 8 Xinhua story. Still, Beijing "will continue to support capable and qualified businesses to carry out outbound investment activities," said the official.
Despite such assurances, the recent pronouncements could damp Chinese companies' appetite for foreign ventures and the willingness of Chinese and international banks to finance future deals, says Primavera's Hu. Also, officials may be more cautious about approving transactions in the runup to next fall's Communist Party Congress, a once-every-five-years event that can make or break a cadre's career. "The current environment incentivizes local officials to play it safe, and they could just freeze investment deals," says Rhodium's Hanemann, who adds that a 20 percent to 30 percent drop in deal value would be manageable, but there's substantial risk of a much larger drop. "The question is, how are these rules going to be implemented, and will they lead to a crash in Chinese outbound investment?"
Beijing's U-turn comes at a time when legislators in the U.S., Australia, and other countries are voicing anxiety that national security could be compromised by deals that give Chinese companies with government connections control over cutting-edge technology or resources including oil, coal, and agricultural land. Confronted with so much uncertainty, American and European companies may decide to turn down offers from Chinese investors, says Dan Harris, a lawyer at Harris Bricken in Seattle who works on cross-border deals. "If I'm a seller and there's a Chinese company that can pay $50 million and an American company that will pay $45 million, I would think long and hard about taking the $50 million," he says.
 
—With Bloomberg News
The bottom line: Beijing policymakers have warned that Chinese companies involved in foreign transactions will face increased scrutiny.
Before it's here, it's on the Bloomberg Terminal.
LEARN MORE