GM Plans to Produce Self-Driving Test Cars at Michigan Plant
by and
Barra says GM would be one of first high-volume builders

CEO declines to comment on Trump's policy toward China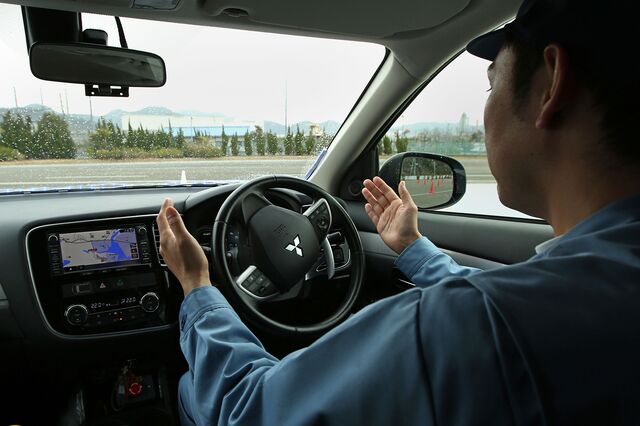 General Motors Co. will begin producing self-driving cars at a Michigan factory -- and testing them on the state's roads -- in a step toward building the vehicles on a large scale, Chief Executive Officer Mary Barra said.
"We believe GM will be one of the first automakers to build high-volume autonomous vehicles in an assembly plant," Barra told reporters at an event Thursday in Detroit. The first models, to be produced in Orion Township starting early next year, will be Chevrolet Bolt electric cars outfitted with autonomous driving equipment, the automaker said in a statement.
The plan illustrates how automakers' progress toward an era of self-driving cars is starting to converge with lawmakers' efforts to keep pace. Michigan last week enacted a law to allow the testing, use and eventual sales of autonomous autos in what state officials called the first comprehensive regulations for such vehicles.
GM acquired Cruise Automation in May to get software for self-driving cars and since then has been testing Bolts in San Francisco, where Cruise is located. GM also has been testing autonomous cars in Scottsdale, Arizona. Before buying Cruise, GM made a $500 million investment in ride sharing firm Lyft Inc. and is working with the company to develop an integrated network of on-demand autonomous vehicles in the U.S.
Separately, Barra declined to comment on President-elect Donald Trump's desire to renegotiate the U.S.'s One China Policy, which recognizes Beijing as the sole capital of the country despite Taiwan's claims to independence. Trump's comment may have sparked an antitrust investigation by the Chinese government into GM's pricing practices in the market.
"I'm not going to speculate," Barra said. "There's a lot that's still going to unfold. We have a very significant business in China; we have a very significant business here and it creates a lot of jobs."
Barra is one of the U.S. executives that Trump named to a panel to give him strategic advice on the economy after he takes office in January.
"I haven't had an opportunity to talk to him yet, but I'm very pleased that I'm going to have a seat at the table to talk about important issues that are facing our industry," Barra said. "There are a lot of things that we can do very constructively to work together with government and business to advance the country."
Before it's here, it's on the Bloomberg Terminal.
LEARN MORE