markets
Bill for Pre-Trump Debt Binge Worst for Emerging Borrowers: S&P
By
Ratings firm subjects 3,000+ credits to crisis-era rates

EM corporates face annual maturities of $200 bln through 2020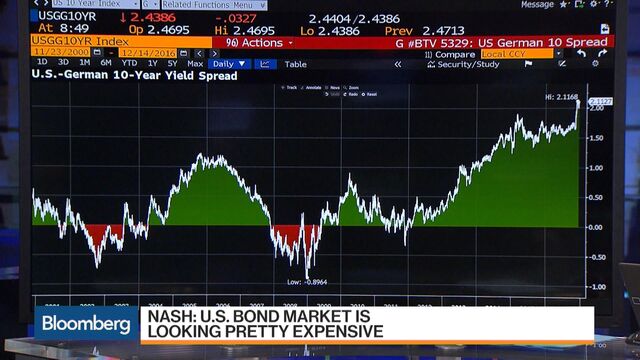 A sharp rise in global bond yields similar to that seen in the global financial crisis would leave companies in Asia and Latin America most exposed after they loaded up on cheap debt in the past decade, according to S&P Global Ratings.
That may be a "stress scenario," but it has become particularly relevant since Donald Trump's Nov. 8 election victory pushed up borrowing costs worldwide, the ratings firm said in a report Wednesday. Ten-year Treasury yields, used as a benchmark to set pricing on new bond issues, hit 2.5 percent this week for the first time since October 2014.

"The long-term yield curve could steepen very quickly, with spreads for some lower-rated borrowers becoming significantly wider," analysts at S&P led by New York-based David Tesher said in the report.
Companies around the world would have to pay an extra $184 billion a year to finance their debts if credit yields increase by more than one third to levels seen in the 2008-2009 global financial crisis, according to S&P's stress test of more than 3,000 corporates. That would hit emerging-market borrowers hardest because they have about $200 billion a year to repay until 2020, according to estimates from JPMorgan Chase & Co.

"Rather than take the opportunity to deleverage, corporates have increased their so-called gearing," according to S&P. "Such high leverage increases the vulnerability of borrowers to unexpected interest rate spikes."
— With assistance by Lyubov Pronina
(
Adds maturity wall chart after fourth paragraph.
)
Before it's here, it's on the Bloomberg Terminal.
LEARN MORE