How to Turn Home Cooking Into a $273 Million Tech Startup
Bloomberg News
AirKitchen joins food delivery market strewn with failures

Startup battling local services of giants Baidu, Alibaba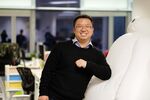 Aromas of fresh cooked meals wafting through his Beijing neighbors' doors inspired Tang Wanli to take on the crowded food delivery market with yet another startup.
AirKitchen, founded in 2014, has already notched a $273 million valuation and is on the hunt for more funding to expand beyond its current base of 20,000 active kitchens across six Chinese cities. Targeting the country's millions of time poor and one-person households, many like him living away from family in distant provinces, he is counting on the appeal of home cooking to defy a shakeout.
"China is getting lonelier," said the former sales manager at Alibaba Group Holding Ltd. "I realized people spent a lot of time on trains and at work so I wondered if we could get neighbors to make food."
From San Francisco and India to Europe, food startups are struggling to get their business model right amid intense competition and escalating costs. For AirKitchen, whose Chinese name translates as "Return Home to Eat," it's coming up against deep-pocketed domestic rivals like Alibaba and Baidu Inc., which have thousands of restaurants signed up to their local services.
But unlike most rivals, AirKitchen recruits stay-at-home parents, retirees and other cooks with the spare time and kitchens to make meals. Diners use an app to browse images of each chef's food and can choose to eat it on-site, pick it up or have it delivered. Around 100,000 daily active users log on to order between 50,000 and 60,000 meals per day.
With researchers predicting China could have 132 million one-person homes by 2050, thanks partly to the one-child policy, Tang sees an opportunity as he seeks to raise at least $30 million at a $300 million valuation.
AirKitchen's unique model comes with its own risks. It operates in a legal grey-market because existing rules don't cover the commercial use of home-kitchens, much in the same way that Uber has yet to be legalized in many of its markets. This means the government doesn't check or certify any of the kitchens for food safety. Similar apps in the US have raised the ire of some health regulators there.
"This company has a good idea but what really worries me is the food safety and quality control," said Kitty Fok, managing director of IDC China. "There's a lot of indirect competition from the likes of takeaway services, home chefs or even restaurants that are transforming themselves."
Fok also doubts AirKitchen has the scale needed to compete against rivals backed by technology giants. Baidu's Waimai boasts thousands of scooter-riding deliverymen bringing everything from Starbucks coffee to sashimi direct to customers.
Tang is girding for a fight, amassing enough cash to last 18 months without any further funding through $40 million of backing from investors including GSR Ventures' Allen Zhu, Kathy Xu of Capital Today and Gang Wang, an initial investor in car-riding service Didi Chuxing. Tang says around $10 million has already been committed to the latest fundraising.
Tang says his kitchens are safer than public ones, citing inspections of each cook before they join, regular spot checks and the social pressure of cooking for people who might be your next door neighbor. Every meal is also covered by an insurance policy, he said.
Tang, who grew up on the fiery cuisine of his home province of Hunan in the south, is banking on the taste of home being addictive to fellow out-of-towners who make up much of China's urban population.
Home cooks are recruited using techniques adapted from Alibaba. To help convince retirees, its staff joined the public dancing groups popular among China's older generations. Marquees are set up outside schools to capture the attention of parents dropping off their children.
To grow scale, he wants to work with a major strategic partner able to provide delivery services, customer referrals and marketing expertise in exchange for a stake. The value of these services could make up some of the latest fundraising round.
"Every kitchen is a story," he said. "We want young people to use this platform and eat at their neighbor's homes and feel like they're eating at their own."
— With assistance by David Ramli
Before it's here, it's on the Bloomberg Terminal.
LEARN MORE