Four Products to Keep You Flying This Holiday Season
Do not wear the eye mask when riding your scooter carry-on.
By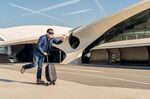 Buy This Stuff*
*Well, most of it
 
Bose QuietControl 30 wireless headphones
Bose has finally married its noise-canceling technology to wireless earbuds. The comfortable, packable, Bluetooth-enabled Bose QuietControl 30 wireless headphones drown out a hefty amount of rattle and hum. Controls on the headset (or an accompanying app) let you adjust noise reduction on the fly, so you can confirm you want the minipretzels without popping out the buds. With 10 hours of battery life, the QC30s are the next-best thing to a first-class upgrade. $300; bose.com


 
Carry On cocktail kit
One of the few joys of flying is the salty familiarity of an in-flight Mr & Mrs T bloody mary. But you can put the craft in aircraft with a Carry On cocktail kit. New variations of these sardine-size tins provide the mixes and garnishes to make hot toddies and, yes, bloodies. (Note the sealed packet of pickles.) You need only ask for one of those tiny bottles of liquor from the beverage cart—watch your feet and elbows. $24; wandpdesign.com


 
Micro luggage scooter
From the baggage carousel of Dr. Moreau comes Micro luggage, an unholy union of scooter and carry-on. Flawed in many ways—it's heavy, there's no external pocket, interior pockets spill open, there's no steering—the Micro seems designed for that Elysian airport where a rider would never collide with a bag or get mocked by a crowd for looking like a schmuck. $300; microkickboard.com


 
Nidra deep rest mask
Need help dozing off on that red-eye? Buy a sleep mask—but not just any sleep mask. The Nidra deep rest mask might make you look bug-eyed, but it doesn't put any pressure on your eyelids and lashes, allowing you to blink freely. With this, the headphones, and a cocktail or three, you should be blissfully unconscious by the time the captain turns off the "fasten seat belt" sign. $12; amazon.com

Go to These Sites: In Case of Emergency
Two startups that can help when the airline gods conspire against you.
 
Flying during the holidays often feels like prime proving ground for Murphy's Law: Anything that can go wrong with your flight will. But two companies are trying to make the ordeal less awful.

Let's say your flight is canceled or delayed more than four hours, or you miss your connection. Normally you'd have to rebook with your airline by either waiting in line at the airport or calling customer service, which is really enjoyable. Freebird (getfreebird.com) lets you rebook on any domestic carrier, not only the one that screwed you. You register an itinerary at least two days before your trip and pay $19 if you're on a one-way ticket or $34 if you're on a round-trip flight. If your plans are disrupted, Freebird will send you a text with a link to new flights you can get on; pick one and that's it—you're off.

But what about your pain and suffering? AirHelp (airhelp.com) streamlines the process of filing a claim with any domestic or European Union airline to get money you're potentially owed for being inconvenienced—as much as $680, depending on the country's air-passenger rights regulations. AirHelp then updates you on the status of the claim and takes a 25 percent cut of whatever you get. —Andrew Sessa
Take This Advice: Don't Wake Me Unless There's Snacks
Six executives' survival strategies for a long flight.

"I treat long flights like a day at a spa—a chance to recharge. I wear black leggings and a tank top layered with a cashmere sweater, which looks professional enough but feels like pajamas. Then I bring warm, fuzzy socks to change into. I also come prepared for a picnic, with prosciutto, cheese, bread, and olives. Once on the plane, I put on my socks, buy a bottle of red wine, and settle in." —Elle Griffin, head of marketing, EveryoneSocial

"I travel frequently on trips that take more than 24 hours and make them bearable by doing three things: First, I put in a special food request ahead of time to avoid redundant meals. Second, I'll watch a movie or TV show for one hour and then work for one hour, on repeat. Third, if I'm flying business or first class, I'll walk back to economy and sit down in an empty seat for 5 or 10 minutes to remind myself how comfortable my seat is." —Krish Himmatramka, founder, Do Amore

"I was on a flight from Tel Aviv to New York City, and instead of watching a movie, I decided to use Tinder's passport feature, which allows you to virtually place yourself in a different city. I placed myself in New York and later managed to meet some women for dates and see the city through locals' eyes." —Sagi Gidali, co-founder and chief product officer, SaferVPN

"I will often book an aisle seat, but if I forget, I'll wait for the person in that seat to arrive and tell them I recently had ACL surgery and need the aisle seat to stretch my leg. To be fair, I did have ACL surgery, but it was two years ago. The scar is still visible, so if anyone asks, I show it to them, and that usually does the trick." —Russab Ali, founder, SMC Digital Marketing

"I'll put on an eye mask with a Post-it attached that reads, 'Please don't wake me unless there's an emergency or snacks.' I came up with the idea when I was on a flight to Paris and the passenger next to me asked me to remove my headphones because he had a few questions. I did, and that person ended up giving me a lecture for the duration of the flight." —Alexis Davis, founder and CEO, H.K. Productions

"To try to fall asleep, I give a friendly smile to those around me as I put on my noise-canceling headphones to show that I will not be chatting. I watch a movie. After that, I put eye covers on. I do single-nostril breathing, then listen to something like ocean waves as I try to imagine myself sleeping. If that doesn't get me to sleep, I'll do it all over again." —Tammy Berberick, president and chief executive officer, Crestcom International
 
—As told to Katie Morell
Before it's here, it's on the Bloomberg Terminal.
LEARN MORE