Sports
High-End Ski Gear Worth Investing In This Winter
Lose the Lloyd Christmas look with innovative equipment that keeps you dry, warm, and upright on the slopes.
By
Step into a sports shop and the sheer range of merch can be overwhelming. How to differentiate between all the marketing hype, celebrity endorsements, and scientific jargon?
Here, we identify the one innovation that matters for each category—the boots that actually fit, the gloves that keep your hands warm, the bag that keeps your camera dry, and the glasses that don't fog up halfway down a run. But keep in mind that your own personal preference, and the terrain you're tackling, may be the ultimate judge. 
The Non-Fogging Goggles

Oakley's Line Miner goggles (from $250) use the brand's Prizm Inferno technology—a fancy name for a defrosting trick that uses a small battery pack, weighing in at about an ounce—to heat up your lenses like the way your car's rear windshield works. Though it's a little more clunky than a typical pair of goggles, the specially engineered lithium ion battery pack is made to maintain its charge in the cold unlike, say, your cell phone. Plus, it comes with the clear and crisp optics you've come to expect from one of the biggest glass-makers on the market.
If you prefer your glasses without a battery, Burton's Anon M3 goggles (from $264) come with "magnetic facemask integration," in which magnets on the bottom of the frames connect with a built-in face mask that, thanks to its vents, keeps your breath from blowing up into your line of sight.
The Lightweight Heavyweight Jacket

If you aren't able to get your hands on the standard-setting, nearly sold-out Macai jacket from Arc'teryx ($925), the Dale of Norway Stryn Jacket ($799)—named for the popular ski resort on the west coast of Norway—is like a shell and insulation all in one. Its breathable wool liner is stain- and dirt-resistant and 100 percent water-repellent; spill red wine or beer on it at the après-ski and it beads up and sheds right off (and, uh, you'll stay dry despite any slush on the slopes, too). It's available in men's and women's sizes and in black/dark charcoal and navy/mustard colors.
A more feminine option for your ski-bunny companion is this stylish Moncler Beverly Grenoble Jacket ($2,050), in white or sky blue.
The Chatter-Free Ski 

So much depends on personal preference, and conditions, but if you tend to go blazing down blues rather than navigating fresh powder, the Blizzard Brahma Skis ($780) continue to improve on the brand's FlipCore technology that builds its camber shape into the core rather than artificially bending it afterward. Despite the admittedly gimmicky-sounding jargon, though, what you get is better distribution and an easy ride.
If you prefer off-piste, try the Nordica Enforcer (from $699), which returns this year after a three-year hiatus with a slight width increase beneath your feet and is built for aggressive skiers. Or go completely custom with a bang-up pair of Wagner Skis (from $1,750), whatever the terrain or your skill level may be.
The Boots That Magically Fit 

Comfort on the hill begins with the right boot. As with skis, there are literally hundreds of variables that go into selecting which one is best for you. But for a great all-around sturdy yet versatile boot that's also easy to customize, it's hard to go wrong with the Salomon X Pro 120 Boots ($599). They also come with a heat-moldable shell and liner and "thermoformable inserts," aka the most comfortable ankle and heel interior pockets available.
Though, if you're not in a rush, check out the bespoke boots from Austrian maker Strolz, the company that practically invented custom liners.
The Gloves Powered by Solar Heat

The Seirus Aura Mitt ($40) comes with Solarsphere insulation, a technology that turns sunlight that's absorbed into the mitt into heat, amplifying the temperature inside by up to 10 degrees. They're made with lightweight, durable, and compressible hollow filament spheres that keep their form better than other brands on the market. If you prefer a five-fingered version, the Ace Glove ($35) has only half the warming capabilities of the Aura, but offers three additional colors, including raspberry, ultramarine, and plum.
The Bamboo Poles That Last

Stronger, lighter, more durable, and more environmentally friendly than traditional aluminum poles, these bamboo versions from Steamboat City, Colo., startup Grass Sticks (from $89) can bend almost 90 degrees and still snap back into place. In some cases, the kiln-dried Calcutta bamboo—similar to the kind used in competitor Panda Poles—is stronger than carbon-fiber poles of similar weight, thanks to its thicker wall with less hollow space inside. Grips come in seven colors with weather-resistant hemp straps, and baskets come in eight colors and three different sizes.
The Go-Anywhere Backpack

OK, so technically this isn't for skiing, but the relaunched and redesigned Stormfront Pack by Patagonia (from $299) has been a longtime favorite of surfers, photographers, and anglers—and now comes in orange and black. The ergonomic design can fit a 15-inch laptop, SLR camera, and other gear, and now the bag can stay submersed underwater (or melting snow) for 30 minutes and still protect valuable gadgets.

The Après-Ski Accessory

Sure, you could use them as a base layer when you're actually skiing, but these Flylow "Shreggings"—leggings meant for shredding, of course—are long underwear ($85) designed to be seen. Whether at après-ski cocktails or headed out for a quick coffee, the design is flattering and comes with small thigh pockets to store your keys and credit cards. They come in three different colors and prints.
WATCH NEXT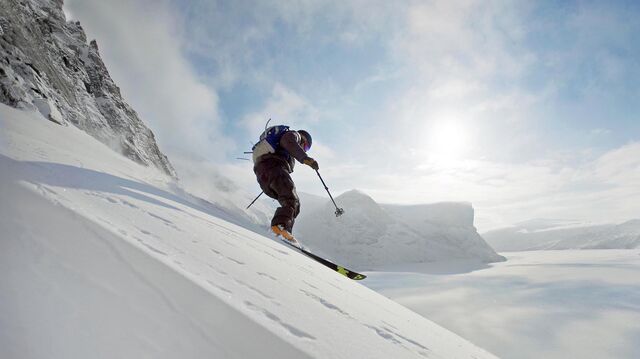 Before it's here, it's on the Bloomberg Terminal.
LEARN MORE