Viacom Names Bakish CEO Following End of Talks to Merge With CBS
By and
Decision follows Redstone family's decision not to push deal

With merger off, company turns to longtime international chief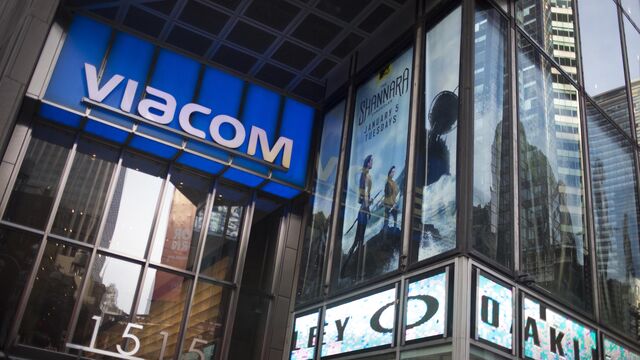 Viacom Inc. named Bob Bakish chief executive officer, formalizing his role atop the parent of Comedy Central and MTV now that talks to merge with CBS Corp. have ended.

The appointment is effective immediately, Viacom said Monday in a statement. Bakish has been acting CEO since November following the departure of longtime chief Philippe Dauman and interim successor Tom Dooley.
The appointment of Bakish, a near-20-year Viacom veteran, will bring a measure of stability to Viacom, which has had three CEOs since August. The board and management of the company were turned out by Sumner Redstone and his daughter Shari, the controlling shareholders, in a fight over the company's performance and direction.
"In Bob's short time as acting president and CEO he has impressed the board of directors with the decisive steps he has taken," Viacom Chairman Tom May said in the statement. "He has moved quickly to deliver upon the mandate given to him -- to maximize Viacom's potential as a strong, growing and independent company. "
The appointment follows Shari Redstone's decision to withdraw her proposed merger of CBS and Viacom, ending negotiations that would have recombined her family's media holdings to create a new colossus in the TV industry.
Redstone sent a letter to both boards withdrawing the proposal Monday.
"We know Viacom has tremendous assets that are currently undervalued, and we are confident that with this new strong management team, the value of these assets can be unleashed," Redstone and her father Sumner, who controls both companies, said in the letter. "At the same time, CBS continues to perform exceptionally well under Les Moonves, and we have every reason to believe that momentum will continue on a stand-alone basis."
Viacom fell 9.4 percent to $34.99 at the close in New York, and the company's bonds also tumbled. CBS was down 0.6 percent to $62.18. The New York Post, citing unidentified people, reported CBS was pursuing other potential media deals, including Sony Pictures Entertainment, and that the broadcaster itself could be of interest to Verizon Communications Inc.
Staying Independent
Bakish, who took over as acting CEO in November, had been running the company as if it would remain independent. Viacom announced a deal to acquire Argentinian broadcaster Telefe the day Bakish took over. The executive, who previously ran Viacom's international business, has said foreign markets are one way to counter the recent struggles in the U.S.
While Viacom was viewed as the stronger company after the split in 2006, its performance has flagged in recent years as young viewers watch less live TV and consume more video online. Viewership of Viacom's cable networks has fallen, its movie studio Paramount Pictures lost money in the most recent fiscal year and infighting between leadership and the Redstones prevented the company from reaching a couple of agreements that would have boosted earnings.
"Both the media networks and Paramount have significant structural challenges and neither of those issues will be solved by the merger in itself,'' Ben Mogil, an analyst with Stifel Nicolaus & Co., wrote in a Dec. 6 note.
Viacom's $1.45 billion of 4.375 percent 30-year bonds plunged 8.8 cents to 77.58 cents in New York, according to Trace, the bond price reporting system of the Financial Industry Regulatory authority. That's their biggest drop since they were sold in 2013. Notes the company sold in October also declined to their lowest levels ever, sinking 3.8 cents to 91.94.
Debt Downgrade?
"We believe the next move will likely be a debt downgrade to below investment grade and that consensus estimates are too high," Alan Gould, an analyst at Brean Capital LLC, said Monday in a note.
CBS has weathered changes in media consumption better than Viacom, maintaining its broadcast network's position atop the TV business and improving the performance of Showtime. The company has spun off divisions more reliant on advertising and invested in new online services. Moonves has portrayed a Viacom deal as interesting but not necessary.
"If it looks right, and is structured properly, it could be an attractive opportunity,'' Moonves said in November. "If not, we are very excited about our prospects on our own.''
Before it's here, it's on the Bloomberg Terminal.
LEARN MORE