OPEC Oil Output Said to Rise Ahead of January Historic Cut
by
Independent data show Nigeria, Libya, Angola boosted output

OPEC cut won't affect Saudi oil exports: Ex-Aramco Official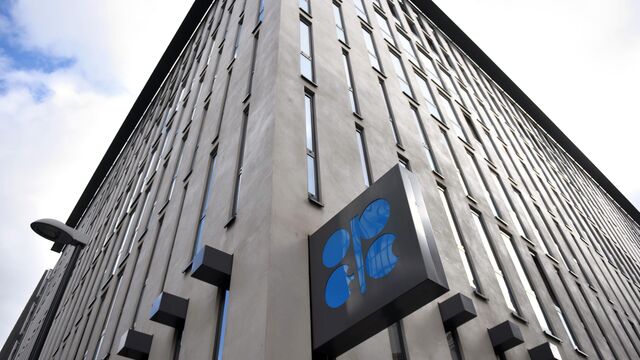 OPEC boosted production in November, according to independent estimates, as Nigeria, Libya and Angola all pumped more oil ahead of the group's Jan. 1 deadline to cut its collective output, a person familiar with the data said.
The Organization of Petroleum Exporting Countries raised production to 33.79 million barrels a day in November from 33.71 million barrels a day in October, the person said, citing data from "secondary sources" such as news agencies and intergovernmental institutions. The person asked not to be identified because the information isn't public.
OPEC members agreed on Nov. 30 to pump less oil for the first time in eight years, pledging to reduce output by 1.2 million barrels a day to try to end a global surplus and firm up prices. Non-OPEC producers on Saturday reinforced the group's decision with a commitment to cut an additional 558,000 barrels a day. While Nigeria and Libya were both exempted from cutting, secondary-source estimates of increased output from them and from Angola underscore the challenge OPEC faces in curtailing supply when its accord takes effect.
"There are no doubts that OPEC's members will increase output to the last day of this month, before the production-cut agreement goes into effect from Jan. 1," Sadad al-Husseini, a Saudi-based analyst and a former official at Saudi Arabian Oil Co., said Monday by phone. "No one wants to give away his share in the export market easily."
OPEC Baselines
OPEC's planned output cut won't affect Saudi Arabia's exports because the country will probably consume less of its own crude as local demand falls during winter, said al-Husseini, a former executive vice president at the state-owned oil producer known as Saudi Aramco.
OPEC's monthly report contains two sets of production data: one submitted by individual members, known as "direct communication," and another compiled from external sources such as news agencies and intergovernmental institutions, referred to as "secondary sources." Secondary-source estimates of OPEC production are becoming more important because the data will help determine baselines for monitoring how well individual members comply with the cuts they agreed to make when they met in Vienna.
November production from Saudi Arabia, OPEC's largest producer, is estimated to have dropped to 10.48 million barrels a day from 10.558 million a month earlier, the person said, citing secondary-source data.
Iraq's output last month also fell, to 4.55 million barrels a day from 4.56 million, the person said, citing the data. Iraq, in a separate direct submission to OPEC, said its production output rose during the same period to 4.8 million barrels a day. 
Secondary sources estimated Nigeria's output in November at 1.71 million barrels a day compared with 1.63 million in October. Nigeria told OPEC in a direct communication that it pumped 1.78 million barrels a day last month.
Before it's here, it's on the Bloomberg Terminal.
LEARN MORE