N.J. Transit Safety Jobs Vacant as Christie Allies Hired at Top
By
Department created with fanfare, then never completely staffed

Senior-level ranks grew while accidents, violations soared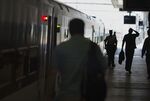 As rail accidents climbed at New Jersey Transit, the cash-strapped agency understaffed its safety office while filling high-level jobs with people tied to Governor Chris Christie's administration.
As of last month, that office was operating without a deputy chief plus about a dozen other employees to oversee workplace health, protection and training. Meanwhile, federal records show safety in key areas slipped at a railroad that handles 89 million passengers a year.
While those positions remained vacant, New Jersey Transit hired or promoted Christie associates to be chief financial officer, deputy executive director, assistant executive director, post-hurricane resiliency manager and chief of policy and strategic planning, documents show. Lawmakers examining New Jersey Transit's operations and finances in the wake of a fatal November crash have criticized those moves under Christie, a second-term Republican who has blasted the agency for patronage hires under prior administrations.
"I would like to think that not hiring is a matter of not having the money," said Senator Bob Gordon, a Democrat from Fair Lawn who is co-leading the inquiry. "It sounds as though this is more like window dressing."
Filling Posts
The safety office vacancies were disclosed on Nov. 4 by Steve Santoro, New Jersey Transit's new executive director, who told lawmakers at a hearing that a lack of money is at the root of many of the agency's troubles. But Nancy Snyder, an agency spokeswoman, said the open spots had no connection to budget pressures.
"The filling of these posts takes some time," she said in a Dec. 1 e-mail. Since the Nov. 4 hearing, New Jersey Transit, the nation's third-largest transportation agency, has filled four of the 13 jobs, she said. Most of the rest are "in some level" of the human-resources process, she said in a follow-up Dec. 9 e-mail.
As for the senior-level positions, she said, the executive director has the discretion to hire without posting job vacancies. The five employees with Christie ties, she said, "served at some of the highest levels of state government and private-sector employment in senior-management positions of tremendous influence." Their backgrounds, she said, included experience with multibillion-dollar budgets, advanced degrees and disaster response.
Brian Murray, a Christie spokesman, didn't return requests for comment on the hiring decisions.
'New Level'
By New Jersey Transit's own measure, the safety office was a star in its first full year. On the rail side, it performed 458 field inspections and observations, and in the bus division, it identified 191 hazards. The agency, in its 2015 annual report, praised office staff for "taking safety to a new level."
Data compiled by the Federal Railroad Administration, though, don't back up the claim. From January 2011 through July 2016, New Jersey Transit logged the most train accidents and the highest safety-violation fines of any U.S. commuter railroad, federal records show.
In September 2016, New Jersey Transit had its first fatal train accident in 20 years, a Hoboken wreck that killed a woman standing on a platform and injured more than 100 passengers. An unusually large number of commuters were standing in vestibules because the train was operating with four cars rather than the usual five, according to a preliminary National Transportation Safety Board report.
Rail Hazards
For rail-related injuries and illnesses, New Jersey Transit in 2015 hit a three-year low. Still, its 379 such incidents were an 80 percent increase over the 2005 figure.
Snyder pointed to accomplishments such as a 19 percent drop in slips and falls from September 2014-2016. To date, the safety office has educated more than 36,000 students on rail hazards. Internally, it's refined how it addresses employee trauma after accidents, developed a respiratory-protection program and overhauled accident and injury reporting.
The office "scrutinizes, refines and evolves our safety philosophy and practices throughout the organization," Snyder said.
Last year, the agency got a three-year deadline extension, to December 2018, to install positive-train control, an accident-prevention system that's among the National Transportation Safety Board's most-wanted improvements nationally. Board investigators are reviewing whether the technology, estimated to cost New Jersey Transit $225 million, could have prevented the Hoboken wreck.
Modern Technology
"We have a lack of funding, lack of effort, ineptitude and an inability to get people trained," Gordon said at a Dec. 6 hearing in Trenton. "New Jersey Transit's problems run much deeper than its failure to implement PTC on a timely basis."
Last year the agency raised fares an average 9 percent and cut $40 million in spending to close a $96 million budget gap. Since 1990 it's transferred $7.1 billion from capital funds to help cover day-to-day expenses, with 42 percent of the total tapped during Christie's terms.
"Safety is Job No. 1 but the other thing is its finances," said Al Papp Jr., a director of the New Jersey Association of Railroad Passengers. "Without money, they're not going to get all these safety positions fully staffed."
Safety Rules
A Federal Railroad Administration audit this year identified dozens of violations of safety and operating rules, including employees using personal cellular phones and trains that lacked emergency equipment and some that were run without brake tests and left unsecured overnight, according to Santoro. In response, the agency announced plans to hire a compliance officer and safety consultant and increased the suspension period for rules violators.
In response to two major incidents in Hoboken, the railroad has changed some of its safety rules. After one train sideswiped another in 2014, conductors were required to look for signals from the front of the train rather than the rear. After the fatal crash in September -- when a train traveling double the 10 mph speed limit struck a bumper at the end of the tracks -- the conductor now accompanies the engineer when pulling into the station.
That strategy, though, has created another headache, Assemblyman John McKeon, a Democrat from West Orange who is co-leading the inquiry, said at the Dec. 6 hearing.
"The trains are already understaffed," McKeon said. "What this has left is a huge queue coming out the first and second cars because there's no one to open all the doors. We really have to stop with temporary solutions."
Before it's here, it's on the Bloomberg Terminal.
LEARN MORE