Hammond Sees Growing Consensus on Transitional Brexit Period
by
Longer period than two years more likely as talks progress

No decision yet on whether to stay within EU customs union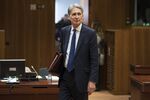 Chancellor of the Exchequer Philip Hammond suggested his push for a transitional period to cushion Britain's exit from the European Union is gaining support among ministers.
Hammond told Parliament's Treasury Committee on Monday it's likely both Britain and the 27 remaining European Union members will conclude a longer transition period is needed to smooth the path of Brexit. Some officials in other countries already share that stance, he said.
"There is, I think, an emerging view among businesses, among regulators and among thoughtful politicians, as well as quite a universal view among civil servants on both sides of the English Channel, that having a longer period to manage the adjustment between where we are now as full members of the European Union and where we get to in the future as a result of the negotiations that we will be conducting would be generally helpful," Hammond said. "The further we go into this discussion, the more likely it is that we will mutually conclude that we need a longer period to deliver."
Hammond has long been an advocate of a transitional period to allow Britain to set out new terms for its relationship with the EU, particularly if Britain is to leave the single market. Prime Minister Theresa May has pledged to begin the Brexit process by the end of March next year, starting a two-year countdown to a U.K.-EU deal, unless both sides agree on an extension.
Meeting of Minds
Hammond said that a transition period would only be possible if there was a "genuine meeting of minds on both sides of the negotiation." Such an agreement would minimize disruption and reduce risks to financial stability, "which must be a fairly real concern," he said. Such an arrangement would benefit industries beyond just the financial sector, he argued.
A transition period could take the form of an agreement at the end of negotiations to introduce changes wrought by Brexit in a series of steps, as well as an acknowledgement that a "finite" amount of extra time was needed to conclude negotiations, he said.
"This is a question of cumulative capacity to make what might be significant changes, and it applies across a very wide range," Hammond said. "I wouldn't like anybody to think this is just about financial services, for example. Depending on what future customs arrangements are between the U.K. and the European Union, they could be quite significant physical infrastructure changes that need to be made at ports of entry and exit, not only in the U.K. but on continental Europe as well. There could be a need to train large numbers of people in anticipation of a much more intensive process at borders."
Customs Union
The chancellor said the government had not yet made a decision on whether to stay in the customs union, which imposes common tariffs on external countries while allowing EU members tariff-free trade with each other.
Hammond was also questioned about his plans to cut government debt from its current level above 80 percent of gross domestic product.
"To be honest we are exposed," he said. "If there was a crisis, God forbid, like 2008, our scope to respond to that would be limited in a way which makes me feel uncomfortable." Hammond said his plans are designed to provide "headroom" to ease fiscal policy if needed.
Before it's here, it's on the Bloomberg Terminal.
LEARN MORE