UEFA Wants $3.4 Billion For European Soccer Broadcast Rights
By
Top teams guaranteed more Champions League slots from 2018

New kickoff times to boost sales on pay TV and Middle East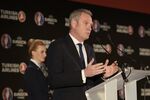 The latest packages of Champions League broadcast rights, featuring more of Europe's top club soccer teams and more prime-time games, are expected to contribute to a record 3.2 billion euros ($3.4 billion) per season in media and marketing income, said UEFA's marketing head, Guy-Laurent Epstein.
That would mark a 28 percent increase over the last deal, which brought in 2.5 billion euros per year, making it one of the more valuable sports properties in the world. Nearly every country in the world broadcasts Champions League games, and media rights account for about 80 percent of UEFA's club soccer revenue. Sponsorships make up the rest.
The sale, which begins Tuesday, offers three-year sponsorship and television rights to the 2018-2021 Champions League and the second-tier Europa League. The process was supposed to start six months ago, but UEFA delayed in order to renegotiate the Champions League structure with Europe's top clubs. UEFA agreed to guarantee half the slots -- and the revenue that goes with them -- to the four highest-ranked leagues, currently the Premier League, La Liga, Serie A and the Bundesliga.
"The fact you have four teams from the top four markets is, commercially, a very positive sign," Epstein said in his first interview since the tender process was finalized. "It's a very ambitious target, but the product is so good that we are very confident."
Soccer's European governing body, UEFA makes a sizable share of its money from U.K. media rights, which along with German, Spain, France and Italy make up 60 percent of its broadcast income. BT Group Plc currently holds the U.K. rights, for which it paid 897 million pounds ($1.1 billion) for the 2015-2018 cycle, more than double the next-best offer. While lucrative for UEFA, some sponsors and fans were annoyed to see the games move exclusively to a pay-TV operator for the first time.
"We can't reserve rights for free-to-air," Epstein said. "The market dictates where the markets end up. I would love it if ITV comes back with a very competitive offer. But I don't know how much they could compete with pay TV."
UEFA also changed the schedule for matches. In the traditional format, all eight Champions League games kick off at 8:45 p.m. Central European Time. Starting in 2018, the group stage will feature matches at 7 p.m. and 9 p.m. That will give pay-television operators two live games on their main channel, and countries as far east as Saudi Arabia will be able to broadcast games close to prime time.
Sports spending by media companies is already "pushing at the margins," said Richard Broughton, a director at Ampere Analysis, who predicted that UEFA would nonetheless hit its target. "We've seen massive rights inflation in the last few big football league auctions in Europe, the Premier League, Bundesliga and even in Turkey because of increased competition," Broughton said by phone.
The sales process opens with the Chinese rights on Dec. 13. Epstein is hoping a Chinese company will buy a Champions League sponsorship for the first time. Hisense, an electronics company, became the first company to sponsor the European Championship in 2016.
Japanese broadcasters and sponsors are up next, with major European markets following early in 2017.
Epstein said the global slate of deals should be in place by the beginning of the 2018 season.
Before it's here, it's on the Bloomberg Terminal.
LEARN MORE