Chipotle Co-CEO Moran Is Leaving, Putting Ells in Sole Charge
By
Board sends co-CEO Monty Moran packing in favor of founder

Company hasn't rebounded from foodbourne outbreaks last year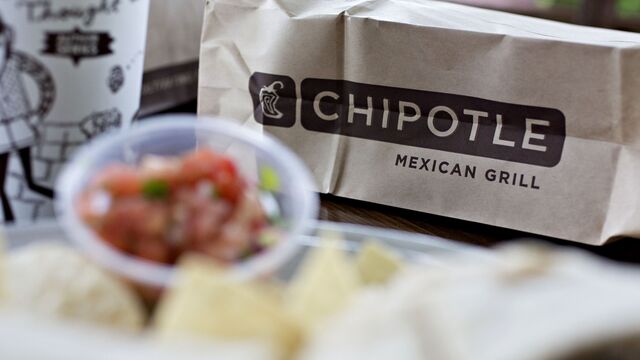 Chipotle Mexican Grill Inc. founder Steve Ells, dispensing with a co-leadership role that had become untenable, will take over as sole chief executive officer and set about fixing the embattled burrito chain.
Co-CEO Monty Moran is stepping down from the job and vacating his board seat immediately, leaving Ells in the top job alone, the Denver-based company said in a statement Monday. Moran, 50, will retire altogether from Chipotle next year.

The move follows a tumultuous year for Chipotle, which suffered a series of foodborne-illness outbreaks in 2015 and then struggled to repair its image. The company renewed investor fears last week when it warned that customer service has slipped, partly because Chipotle has been focused on the food-safety crisis. The stock fell almost 8 percent on Tuesday after those remarks.
To drive its turnaround effort, Chipotle has invested in marketing programs and coupons aimed at luring diners back to its restaurants. But those returning customers haven't always had the best experience, Ells said in an interview. With that in mind, the 51-year-old founder will take a closer look at operations, aiming to get back to the efficient service model that fueled the company's growth for years.
Chipotle's original selling point was being able to offer fresh food, cooked to order, in a novel way -- and the company did it "by keeping things really simple," Ells said. "As I look as what we're doing, it's not simple any more."

Ells said the decision for Moran to leave the company was not the result of pressure from Pershing Square Capital Management, the hedge fund run by billionaire activist investor Bill Ackman that has acquired a roughly 10 percent stake in the burrito chain. Pershing Square declined to comment.
Chipotle's board cited operational problems in pushing to have Ells retake the CEO job alone. He started the company more than 23 years ago and ran it until 2009, when he assumed the shared role with Moran.
"As the company grew, operations became more complicated and less consistent," Neil Flanzraich, lead director of Chipotle's board, said in the statement. "Given the ongoing challenges facing the company, the board felt strongly that it was best for Steve to resume leadership of the company going forward."
Stock Gain
The shares rose as much as 3.9 percent to $384.53 in New York trading following the announcement. Chipotle had slid 23 percent this year through the end of last week, dogged by the slow recovery from E. coli and norovirus outbreaks last year.
With the turnaround faltering, it was time to make a change, said Michael Halen, an analyst at Bloomberg Intelligence.
"The inability to run good restaurants this year is almost mind-boggling," he said.
Before Moran was hired as co-CEO, he had served for almost four years as chief operating officer. He also worked as general counsel and previously was CEO of the Denver law firm Messner & Reeves LLC.
Handling Operations
At the time, Ells said that Moran helped bring a "people culture" to Chipotle, rather than just a "food culture." Ells, a classically trained chef, had created the chain with the aim of bringing higher-quality ingredients and cooking techniques to the fast-food industry.
A co-CEO arrangement is often meant to help a company's founder handle a growing business's mechanics. But if Moran was supposed to be the operations guy, it wasn't showing up in recent results, Halen said.
Chipotle's workforce hasn't been managed well, he said. In the aftermath of the E. coli crisis, Chipotle kept restaurants fully staffed -- despite lower customer traffic -- in a bid to maintain its customer service. But the turnaround effort has been lackluster.
The restaurant chain said last week that it has now imposed a hiring freeze. It also warned that it was "nervous" about meeting its 2017 guidance. In October, Chipotle forecast 2017 earnings of $10 a share.
"They kept labor in the restaurants and at the same time operations still deteriorated," Halen said. "They need to make some changes."
Better Workers
Ells said on Monday that he would be focused on improving the company's restaurant teams -- and in turn, the dining experience.
"While our plans will take some time to implement, we will act with a sense of urgency toward all of the changes we are pursuing," he said.
Chipotle isn't the only food company to abandon dual-CEO roles this year. Whole Foods Market Inc. made a similar move last month, putting its co-founder back in sole control of the chain.
At Chipotle, Moran's departure may help the company make other management changes, according to John Zolidis, an analyst at Buckingham Research Group. The co-CEOs' pay packages had drawn criticism in the past, and the latest change could free up resources to apply elsewhere.
The move "sets the stage to bring in new individuals and amplify the executive team with a skill set more closely aligned to addressing the company's current issues," Zolidis said in a note.