Italy's Gentiloni Heads for Prime Minister Job After Renzi Quits
By and
Premier-designate will report back on cabinet formation soon

President's office announces choice after talks in Rome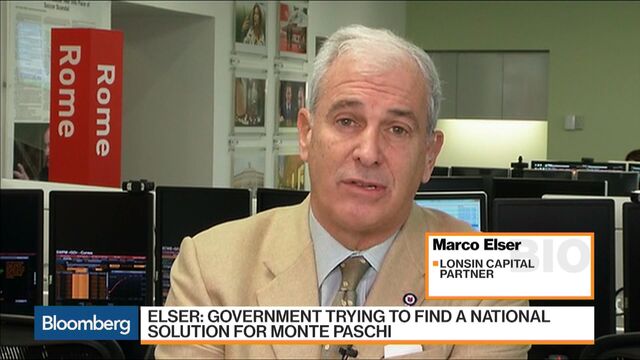 Outgoing Foreign Minister Paolo Gentiloni was given a mandate to form a new government by Italy's head of state on Sunday after Matteo Renzi quit following the prime minister's defeat in a national referendum.
Gentiloni, 62, who met President Sergio Mattarella at the presidential palace in Rome, provisionally accepted the request. Gentiloni told reporters after the talks that he would refer back to the president "as soon as possible."

"I am aware of the urgency of giving Italy a government with full powers, to reassure citizens and to tackle with the maximum commitment and determination international, economic and social priorities, starting with the reconstruction of the areas struck by the earthquake" earlier this year, Gentiloni told reporters.
Immediately after meeting Mattarella, Gentiloni met the speakers of both houses of parliament, quickly starting a round of talks with political figures before he returns to the head of state with a list of proposed ministers. Gentiloni could go back to the president's palace as early as Monday to report on progress in his talks, given the time pressures for finding a new government, news agency Ansa said.

Renzi Loyalist
The descendant of a noble family, and a former communications minister, Gentiloni has long been a Renzi loyalist and can count on the support of their Democratic Party, the biggest in parliament.
Read more: Gentiloni faces a daunting array of issues
Gentiloni noted that the biggest opposition parties had rejected Renzi's call for a new broad-based government. "So not out of choice, but because of a sense of responsibility, we will move within the framework of the outgoing government and majority," Gentiloni said.
Gentiloni is expected to make only a few changes to the government, with Finance Minister Pier Carlo Padoan staying on. Potential new foreign minister candidates include outgoing Culture Minister Dario Franceschini and Economic Development Minister Carlo Calenda.
As foreign minister, Gentiloni helped Renzi push for European Union partners to share the burden of migrants crossing the Mediterranean from North Africa. He also co-chaired talks on the Libyan crisis with U.S. Secretary of State John Kerry.
Monte Paschi
But Gentiloni will very quickly face urgent challenges at home -- first and foremost the plight of Banca Monte dei Paschi di Siena SpA after the European Central Bank decided on Friday not to allow the lender to extend a deadline on a 5 billion-euro capital increase, fueling worries that political instability could weigh especially on the troubled banking sector.
Gentiloni pledged that, if his appointment is confirmed, he would work on a new electoral law. Mainstream parties want to change the current law because they fear that an automatic majority, attributed to the leading party in the lower house, could benefit the anti-establishment Five Star Movement, which wants a referendum on Italy's membership of the euro area.
Opposition parties denounced Gentiloni's appointment as taking no account of the result of the Dec. 4 referendum, in which Renzi's PD was one of the few parties to campaign for a 'Yes' vote to his proposed reform of the Senate.
"After the referendum defeat Renzi was supposed to leave politics, and instead he's the one who indicated Gentiloni, his 'avatar,' to Mattarella," Alessandro Di Battista, a Five Star leader, said in a post on Facebook. He called Gentiloni "yet another professional politician aiming to rob citizens of their sovereignty."
Matteo Salvini, leader of the anti-immigrant Northern League, said Gentiloni's appointment was "incredible," calling him "the fourth premier not elected by anyone, the poor and useless photocopy of Renzi" -- after premiers Mario Monti, Enrico Letta and Renzi himself.
Before it's here, it's on the Bloomberg Terminal.
LEARN MORE