Trudeau Strikes Climate Deal Despite Provincial Holdouts
By
Manitoba, Saskatchewan oppose plan to set minumum carbon price

Prime Minister pledges to impose national price anyway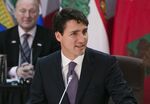 Prime Minister Justin Trudeau has reached an agreement for a carbon price and national climate plan, pledging to move ahead even as two Canadian provinces continue to hold out.
Trudeau met premiers Friday in Ottawa, emerging in the evening to announce a framework toward 2030 emissions reduction targets that includes a minimum carbon price. It will be up to provinces and territories to choose either a tax or cap-and-trade.
Dubbed the Pan-Canadian Framework on Clean Growth and Climate Change, the plan comes with caveats. Friday's announcement included little detail and is so far opposed by the provinces of Manitoba and Saskatchewan, the latter of which has previously threatened legal action. Trudeau nonetheless hailed the framework as a milestone.
"We will be acting in a determined way to fight climate change and achieve significant progress in environmental protection for our children and grandchildren," Trudeau said. The carbon pricing is flexible for each province and for remote northern communities, he said. "The need to act now is not only a moral imperative, it's an economic necessity."
Environment Minister Catherine McKenna said the provinces' disagreement in the final stages was specifically on carbon pricing, which was one part of the framework. In October, Trudeau threatened to impose a minimum carbon price if provinces don't agree, and echoed that Friday. The minimum "will continue to apply throughout the country" even if provinces hold out, Trudeau said.
Court Battle
Trudeau pledged a minimum price of C$10 ($8) a metric ton beginning in 2018, and rising to C$50 a ton in 2022.
Saskatchewan Premier Brad Wall has threatened a court battle over that pledge, and said Friday the framework comes at a time when energy-producing provinces such as his are coping with slumping commodity prices.
"My position has always been now is not the time," he said. The tax "will disproportionately impact industries that create jobs in our province," and risks driving oil production in the Bakken formation out of Saskatchewan and across the U.S. border.
Manitoba Premier Brian Pallister said he held out on Trudeau's climate deal because of dissatisfaction with the rate of growth of federal transfers for provincial healthcare spending. The premiers were due to discuss health funding with Trudeau later Friday.
Canada will jointly develop a clean-fuel standard, build electrical transmission lines to support a coal phase-out and retrofit buildings as part of the effort. Trudeau's previous infrastructure budget, as well as the Canada Infrastructure Bank he has pledged to create, will help fund efforts to boost environmental performance, he said.
British Columbia Premier Christy Clark -- initially a dissenter, only to later sign on -- said western, energy-producing provinces were effectively facing a higher carbon price than those from cap-and-trade systems in Ontario and Quebec, the two most populous provinces.
"It has to be fair for all Canadians," Clark told reporters. "It may take us a little bit of time to get there. We may get there today." She later agreed to the deal, thanking Trudeau for his "flexibility" that brought her onside at the last moment.
The meeting began with U.S. Vice President Joe Biden urging Trudeau and the premiers to act quickly and press ahead on fighting climate change. President-elect Donald Trump won't necessarily slow climate strategy in the U.S. because the movement is now being driven by market forces and by individual communities and states, Biden said.
Before it's here, it's on the Bloomberg Terminal.
LEARN MORE