Xi Certain China to Achieve Major Economic Goals This Year
Bloomberg News
Economy still faces many prominent problems, Politburo says

Communist Party seeks more open economy, foreign investment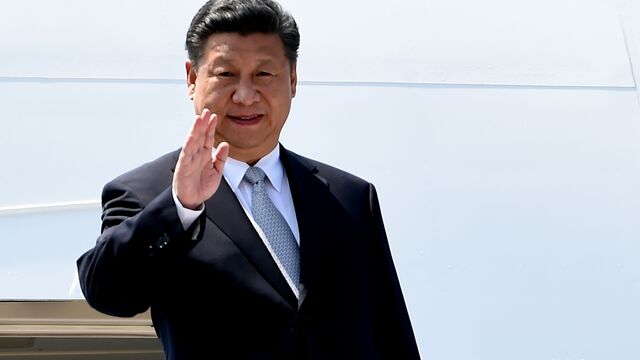 President Xi Jinping said he's certain China will achieve its major economic and social objectives this year and that the 13th five-year plan period "will be off to a good start," according to a statement released Friday by the official Xinhua News Agency.
The Communist Party also listed top government economic goals for 2017, including additional supply-side structural reforms. China will further open the economy, improve investment conditions, unleash consumption potential and work to attract foreign investment.
"The country should push forward reforms on key sectors, including the state-owned enterprises, fiscal and taxation, financial and social security," Xinhua reported, citing a statement released after a meeting of the Political Bureau of the CPC Central Committee.
The meeting was convened ahead of a key annual gathering of policy makers later this month to plot major economic targets and policies for next year.
The world's second-largest economy has defied doubters this year with three straight quarters of 6.7 percent growth, four years of factory-gate deflation drawing to a close, and the main manufacturing index matching a post-2012 high. After two years of policy easing, there's a low probability the People's Bank of China will cut benchmark interest rates or the required reserve ratio for banks this year, Xinhua reported last month.
Prominent Problems
The economy still faces many prominent problems, and authorities should make great efforts to solve them, such as reducing excess capacity and financial risk in some areas, according to a statement released after the Politburo meeting. China also will accelerate construction of a long-term mechanism to ensure smooth and healthy development of property markets.
Xi's comment echoed the same sentiment last month from Premier Li Keqiang, who said he's confident the government's full-year growth target of 6.5 percent to 7 percent will be met.
China's resilience will face another challenge from U.S. President-elect Donald Trump, who has threatened to impose tariffs on Chinese goods and to label it a currency manipulator after taking office Jan. 20. Trump renewed his criticism Thursday at a rally in Iowa, calling the nation responsible for much of America's trade deficit. "China is not a market economy," he said. "They haven't played by the rules, and they know it's time that they're going to start."
Xi told Trump in their first conversation that cooperation was the only correct choice for ties between the world's two largest economies, with the U.S. president-elect promising his counterpart "one of the strongest relationships."
— With assistance by Yinan Zhao, and Jeff Kearns
Before it's here, it's on the Bloomberg Terminal.
LEARN MORE