Monte Paschi Rescue Plan Ends With State Bailout: QuickTake Q&A
By , , and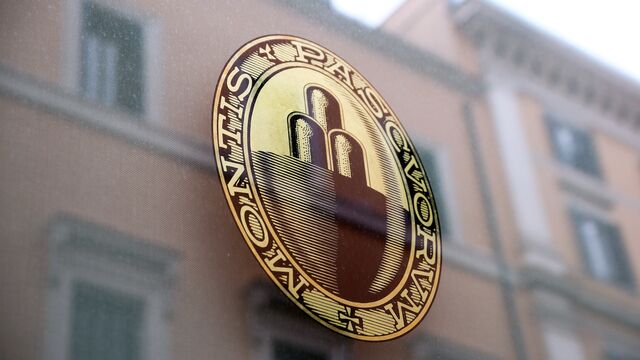 Banca Monte dei Paschi di Siena SpA needs a government bailout after all. The European Central Bank directed Monte Paschi, the world's oldest bank, to raise 8.8 billion euros ($9.2 billion), almost twice the amount it had sought, and failed, to raise privately. New Italian Prime Minister Paolo Gentiloni -- who replaced Matteo Renzi after his ill-fated Dec. 4 referendum on constitutional reform -- will oversee the country's biggest bank nationalization since the 1930s. Up to 20 billion euros will be available to plow into Monte Paschi and other banks, on the condition that existing investors also absorb losses.
1. Weren't bank bailouts supposed to be a thing of the past?

Sort of. European Union law put in place after the 2008 financial crisis makes government support for viable banks more difficult, but a "precautionary and temporary" recapitalization is possible if a bank is solvent. The ECB said it considers Monte Paschi to be solvent. In such a recapitalization, EU state-aid rules normally require that shareholders and junior creditors take losses, a process known as a bail-in.
2. What happens next?
Italy is free to inject state money into Monte Paschi under conditions set by the European Commission. The government's contribution could reach 6.3 billion euros, according to the Il Sole 24 Ore newspaper. 
3. How would a bail-in work?
Under EU rules designed to limit taxpayer-funded bailouts, holders of Monte Paschi's 4.3 billion euros of junior bonds would face some losses, a process known as burden sharing, if any state aid is granted. Different bonds come with different levels of protection from such losses. Holders of Monte Paschi's Tier 1 securities will get stock that represents 75 percent of the nominal value of the bonds, while Tier 2 bonds will be converted at 100 percent of nominal value, the government said.
4. What does it mean for bondholders and owners of the CDS?
The creditors nonetheless face big losses, since the larger amount the bank is required to raise means their future equity stake will be diluted by state money. The Italian Treasury plans to soften the blow for retail investors, who hold about 2 billion euros of the bonds, by later offering them senior bank bonds in exchange for the shares they received. A committee of the International Swaps & Derivatives Association may determine what the conversion to equity means for credit-default swaps. CDS contracts insure a net $263 million of the bank's debt, according to the Depository Trust & Clearing Corp.
5. Why couldn't Monte Paschi raise enough capital on its own?
It's burned through most of the cash raised from investors since 2009, and Chief Executive Officer Marco Morelli faced a challenge persuading them to give the bank another chance. A bout of considerable political and economic uncertainty in Italy following the Dec. 4 plebiscite made the task even more daunting. On Dec. 22, the bank admitted that its efforts to raise $5 billion had failed because no "anchor" investors would take a big bet on the company's turnaround.
6. Why does Monte Paschi need the money?
Analysts are keen to point out that, right now, Monte Paschi capital levels aren't disastrous: The common equity Tier 1 ratio, a measure of financial strength, was 11.5 percent at the end of September, above mandated levels. But it was deemed Europe's weakest major bank in stress tests in July. The bank's failed plan to rescue itself would have involved securitizing and selling 28 billion euros of bad loans. That is now likely to be delayed, requiring the bank to boost capital to protect against further losses from those soured assets. ECB officials are also concerned about the short-term funding ability of Monte Paschi, which said its liquidity position "deteriorated rapidly" in December. An infusion of new money could bolster the confidence of retail and corporate customers.
7. Could Monte Paschi's woes affect other Italian banks?
Monte Paschi has become a proxy for the banking system; its bailout may be a model for others. Veneto-based lenders Banca Popolare di Vicenza SpA and Veneto Banca SpA will receive almost 1 billion euros from a bank-industry fund in January just months after it pumped in 2.5 billion euros. Still, their junior bonds have fallen to record-low prices, indicating losses may be imposed. Italy's biggest bank UniCredit SpA has so far shrugged off similar concerns, announcing it would would cut headcount, sell assets and execute a 13 billion-euro rights offer early in 2017.
The Reference Shelf
— With assistance by Alessandro Speciale, Hayley Warren, David Scheer, and Abigail Moses
Before it's here, it's on the Bloomberg Terminal.
LEARN MORE