It's Friday, Two Days Before Next Week's Central Banks Galore
By
Policy meetings littered with caveats but likely no surprises

Treasury auctions, Australia jobless report also loom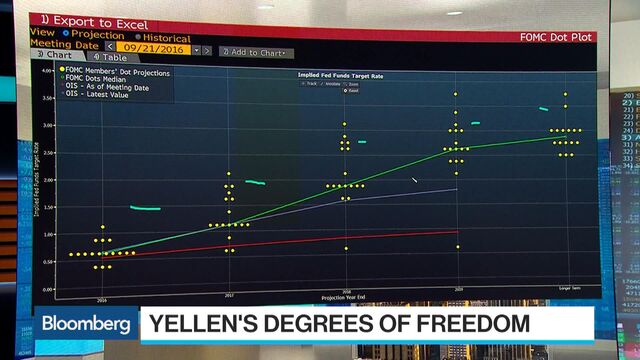 Next week strikes me as likely to be an exercise in ifs, and buts. The myriad central bank meetings will be unlikely to provide many surprises. Yet they will be littered with all sorts of caveats. The global economy may be improving in aggregate. But no one wants to claim premature victory. Let's face it, there are so many known and unknown unknowns that what we really are doing is aiming at moving targets. There is no clear glide path.
Of course the biggest news should be the Fed's rate hike. Remember it's fully priced in. What isn't is just what set of dot plots will be presented. And there's no credible way of handicapping what the new government will do. Unless they want to adopt the attitude of the stock market and figure if we need no stinkin' regulations it's off to the races. Not my base case.
With the dollar index having accomplished a very impressive rejection of what looked like a failure a couple of days ago, beware of any pushback against continued appreciation. This Fed doesn't appreciate a roaring currency. And with 10-year Treasury yields threatening to take a run at 2.50 percent, they will be aware that emerging markets will be put at risk.
What to Watch Next Week:


Before we get to the Fed Wednesday, there will be a heavily loaded Treasury auction schedule to go through. A double bill of 3s and 10s Monday, followed by 30s on Tuesday. Great big test of whether this bond selloff brings out the foreign buyers
The SNB Thursday will have to remind everyone that the damn currency is too strong and they're unhappy about it. Recent data supports their case. Recent global events don't. If the euro should slip below 1.0450 to the dollar, the SNB will have a problem on their hands
The BOE comes next and is likely to do nothing. They can't really make sense of all the numbers. The message will be, we might cut or hike. We think the economy is doing well but we don't believe it. Inflation is good, but could be a problem
Mexico's central bank has its own challenges. They've talked themselves into a corner over currency weakness, creating a buy the rumor, sell the fact feedback loop. They should get off it, but can't now
Lest you think the world is only about central banks, Australia has an unemployment report Wednesday that everyone will tell you is volatile and badly tabulated. It's important. The economy has been sending out conflicting signals, with policy normalization forecasts resembling a slide on a trombone. Philip Lowe may have been a loyal deputy of Governor Stevens, but he sounds like he's no clone
Smith and Wesson of Dirty Harry fame is holding a vote to change their name to American Outdoor Brands. I don't think this will fool socially responsible investing funds
Also, in the ultimate irony, the president-elect will be outlining his plan to turn over control of his business to his kids. But he's remaining an executive producer of Celebrity Apprentice with a 50% interest in proceeds. A detail that won't be lost on advertisers



NOTE: Richard Breslow is a former FX trader and fund manager who writes for Bloomberg. The observations he makes are his own and are not intended as investment advice
Before it's here, it's on the Bloomberg Terminal.
LEARN MORE