Trump Said to Offer Goldman's Cohn National Economic Council Job
By and
Appointment would strengthen firm's influence in Washington

NEC director has key role in White House's policy agenda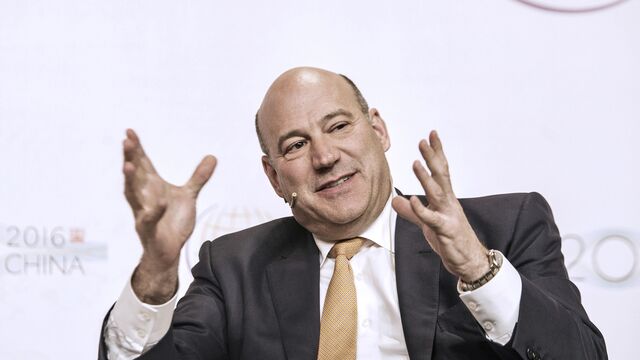 Goldman Sachs Group Inc.'s Gary Cohn, once the heir apparent to Chief Executive Officer Lloyd Blankfein, has been offered the job as President-elect Donald Trump's chief economic policy adviser, two people familiar with the matter said.
Cohn, who has spent more than 25 years at the investment bank, has been asked to head the National Economic Council, among the most influential panels inside the White House, helping to coordinate and develop the president's economic program. Installing the Wall Street firm's president would strengthen its influence in Washington while clearing the way for the next generation of Goldman Sachs leaders.
NBC reported earlier that Trump had offered him the job. Cohn didn't immediately respond to phone and e-mail messages seeking comment. Jake Siewert, a Goldman Sachs spokesman, declined to comment.
Cohn, 56, would be the third and most senior Goldman Sachs alumnus to take a prominent role in the incoming administration, despite the president-elect's fierce criticism of Wall Street and the bank in particular on the campaign trail.
Cohn became Goldman Sachs's co-president in 2006, and later sole president, holding an office that in recent decades has been used to groom the next CEO. Both Blankfein and his predecessor, Henry Paulson, served as presidents of the company before ascending to the top spot. But after 10 years there, Blankfein has signaled no intention of stepping down, leaving Cohn to explore other opportunities.
President's Objectives
The NEC was set up as a counterpart to the president's National Security Council. The group is comprised of representatives of various executive branch departments and is overseen by the director. The director is expected to represent the president's interests and serve as an honest broker among competing agencies and departments to carry out the president's economic objectives. Some directors have spearheaded top presidential initiatives. The position isn't subject to confirmation by the Senate.
Past directors include two former Goldman Sachs leaders, Robert Rubin and Stephen Friedman. Rubin went on to become Treasury secretary. His deputy and successor in that post, Larry Summers, later led the council as well. Its current leader, Jeff Zients, is a former management consultant.
Cohn in His Own Words: Views of Top Contender for Trump Economic Post
As Blankfein's top lieutenant, the 6-foot-3-inch Cohn has long been seen as fiercely loyal to Goldman Sachs's CEO, serving as his eyes and ears and, sometimes, as his enforcer. For years, Cohn was known to walk the bank's floors, meeting with business heads as well as clients and investors. By 2013, he estimated he spoke to about 400 CEOs annually.
While colleagues and customers once described his style as abrasive, Cohn has increasingly served as a public emissary of the bank in recent years, speaking on television and at conferences about the global economy, financial regulation and the future of Wall Street. He has chided U.S. officials for imposing onerous rules on banks in the wake of the financial crisis, arguing that they hamper growth.
"I seem to be in Washington every week, trying to explain to them the unintended consequences of over-regulation," he told an audience last year at the Jack Welch College of Business at Sacred Heart University in Connecticut.
He called unemployment figures published during President Barack Obama's term "very, very fictitious" because they exclude many people who've given up looking for jobs. He's criticized the tendency of central banks to provide frequent guidance, saying they end up boxing themselves into situations where they either have to take steps as telegraphed or roil markets. And he's said China should play an important role in global growth.
Trump hasn't shied from surrounding himself with billionaires and bankers after a campaign that pledged to rein in Wall Street. The president-elect named former Goldman Sachs partner Steven Mnuchin to run the Treasury, and one of his first acts after winning the election was to select another alumnus of the firm, Stephen Bannon, as chief strategist. He also picked billionaire investor Wilbur Ross to lead the Commerce Department.
A registered Democrat, Cohn didn't make public pronouncements about the presidential candidates during their campaigns. He has, however, been a prolific donor to candidates in both parties.
He contributed more than $275,000 to Democrats, including donations to Obama and Hillary Clinton in their race for the Democratic presidential nomination in 2008, according to Federal Election Commission records. He's also donated more than $225,000 to Republicans, with most of the money coming in recent years. In 2015 he sent cash to Kelly Ayotte's Senate campaign in New Hampshire and Tom Cotton's in Arkansas. He donated to Florida Senator Marco Rubio's campaign for the Republican presidential nomination but not to Trump's, records show.
— With assistance by Justin Sink, Jennifer Jacobs, Robert Schmidt, and Kevin Cirilli
Before it's here, it's on the Bloomberg Terminal.
LEARN MORE