Exxon CEO Tillerson Said to Be Trump Secretary of State Pick
By and
Past ties to Russia may aid administration's Moscow outreach

President-elect said to be ready to announce pick next week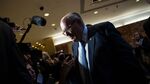 Exxon Mobil Corp. Chief Executive Officer Rex Tillerson is emerging as Donald Trump's choice as secretary of state, a move that would hand top diplomatic powers to a man whose ties to Russian President Vladimir Putin go back almost two decades.
A source close to Trump said the president-elect had not formally offered Tillerson the job yet but is likely to do so. An announcement is expected in the next few days, according to the person, who asked not to be identified discussing internal deliberations. NBC earlier reported that Tillerson was Trump's pick.
The development -- the latest in weeks of speculation about Trump's secretary of state choice -- quickly triggered pushback from some lawmakers. NBC said its sources, people close to the transition team, cautioned that nothing is final until the president-elect makes an announcement. Trump has said he'll disclose his decision next week.
In an interview to air on "Fox News Sunday," Trump praised Tillerson without confirming that the 64-year-old oil executive was his final choice.
"He's a world-class player," Trump told correspondent Chris Wallace, according to a preview posted on Fox News' Facebook page on Saturday. Exxon Mobil Corp. is "unbelievably managed," Trump said.
Tillerson, who hits Exxon's mandatory retirement age of 65 in March, would be the first oil executive and only the second Texan to lead the State Department.
Long Short List
Mitt Romney, the 2012 Republican nominee for president and a critic of Trump during this year's campaign, remains on the short list of candidates, according to two people familiar with the matter, who asked not to be named because the discussions are private.
Kellyanne Conway, a top Trump adviser, said Friday on Fox News that the list currently includes, in addition to Tillerson and Romney, Alan Mulally, the former CEO of Ford Motor Co., former CIA Director David Petraeus, Senate Foreign Relations Committee Chairman Bob Corker, former U.S. Ambassador to the United Nations John Bolton, and Representative Dana Rohrabacher, a California Republican.
NBC reported Saturday that Bolton may be tapped as Tillerson's deputy.
'Massive Deals'
Tillerson has ties to Putin that go back to 1999, when the pair met on remote Sakhalin Island in Russia's Far East. He was awarded Russia's Order of Friendship, a high civilian honor given to distinguished foreign nationals. As recently as 2015 he visited with officials in Putin's inner circle. That connection could make him a useful bridge between the Russian leader and Trump, who has repeatedly said he'd seek a more cooperative relationship with Moscow.
"A great advantage is he knows many of the players, and he knows them well," Trump said in the Fox News interview. "He does massive deals in Russia. He does massive deals for the company -- not for himself, for the company."
Millions of Acres
Under Tillerson's leadership, Russia became Exxon's single biggest exploration theater as the company amassed drilling rights across tens of millions of acres, dwarfing its holdings in its home country, formerly its largest drilling opportunity, according to U.S. Securities and Exchange Commission filings.
When the Putin regime forced Royal Dutch Shell Plc and other foreign investors to cede control of a massive gas export project on Sakhalin Island in 2007, Exxon's holdings in the same region remained intact and untouched by the government.
Tillerson steered Exxon's historic 2011 deal with Kremlin-controlled oil explorer Rosneft that gave the U.S. driller access to Russia's vast Arctic, deepwater and shale-oil deposits. Shortly after the venture discovered a billion-barrel crude field in the Kara Sea, the U.S. and European Union imposed sanctions to punish Russia for supporting separatists in eastern Ukraine and for the annexation of Crimea. The sanctions didn't force Exxon to surrender drilling rights in Russia, but required that it and all other U.S. and EU companies halt their most ambitious projects.
Tillerson would probably face stiff opposition from Democratic and some Republican senators for both his foreign business ventures and an escalating legal tussle over how much Exxon knew about climate change and when.
'Matter of Concern'
Republican Senator John McCain, chairman of the Senate armed services committee, said on Fox News that Tillerson's relationship with Putin is "a matter of concern." U.S.-Russia ties are at a tense moment after the CIA reportedly concluded Russia intervened to help Trump during the presidential election campaign -- a finding the Trump team has dismissed.
Senator Bob Menendez, the top Democrat on the Foreign Relations Committee, called the choice "alarming and absurd" in a statement on Saturday.
"With Rex Tillerson as our Secretary of State, the Trump administration would be guaranteeing Russia has a willing accomplice in the President's Cabinet guiding our nation's foreign policy," Menendez said.
Tillerson has moved Exxon to recognize the reality of climate change, a shift from the position of his predecessors. "The risk of climate change is clear and the risk warrants action. Increasing carbon emissions in the atmosphere are having a warming effect," the company says on its website.
Still, environmental groups quickly decried the potential appointment. "Tillerson may be a friend of Putin, but he's no friend of the planet," May Boeve, executive director of 350.org, said in a statement. Gene Karpinski, president of the League of Conservation Voters, said in a statement that "this seems like it should be fake news, but it's all too real and scary."
With the selection, Trump would end a feud that had broken out among his advisers and supporters over the the potential choice of Romney, who sought to mobilize opposition to Trump during the presidential campaign, calling him "a con man, a fake."
'Take the Oil'
But Tillerson's selection will also fuel critics who say U.S. foreign policy has long been driven by the country's demand for oil and that naming an oil executive is the last straw. During the campaign, Trump said the U.S. should have seized Iraq's oil fields after the U.S. invasion in 2003, a move which he says would have prevented the rise and spread of the Islamic State terror group.
"I've always said -- shouldn't be there, but if we're going to get out, take the oil," Trump said in September. "It used to be, 'to the victor belong the spoils.' Now, there was no victor there, believe me. There was no victor. But I always said: Take the oil."
An Exxon lifer and University of Texas-trained engineer, Tillerson would add to a Cabinet increasingly full of millionaires and billionaires, including Commerce Secretary nominee Wilbur Ross, whose fortune is estimated at about $2.9 billion. Tillerson was paid $27.3 million in salary, bonus, stock awards and other compensation in 2015; his 2.6 million shares of Exxon common stock had a value of about $228 million as of early December.
After becoming CEO in 2006, Tillerson led Exxon through more than a decade of ups and downs that included the late Hugo Chavez's seizure of Venezuelan oil fields, annual profits that set U.S. corporate records, and a 2010 shale acquisition that turned into a $35 billion wrong-way bet on natural gas.
Outside work, Tillerson used his cachet as a past president of the Boy Scouts of America to help end a long-standing ban on gay scouts in 2013. He also trains rodeo horses on his ranch north of Fort Worth, Texas, and is a former competitive rider. 
Tillerson and his wife Renda contributed $493,000 to federal candidates and committees over the last decade. The largest chunk, $159,000, went to the National Republican Senatorial Committee. He contributed the maximum $2,700 allowed under law to former Florida Governor Jeb Bush in the 2016 presidential primaries and $5,000 to the Right to Rise USA, the pro-Bush super-PAC, but didn't contribute to Trump. Renda Tillerson sat out the presidential race entirely.
— With assistance by Justin Sink, Bill Faries, Henry Goldman, and Nick Wadhams
Before it's here, it's on the Bloomberg Terminal.
LEARN MORE