Crowdfunders Face U.K. Crackdown as Regulators Find Faults
By
Five-month review cites problems around risk and transparency

Report comes amid surge in peer-to-peer lending in U.K. market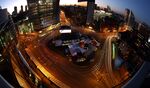 The U.K. Financial Conduct Authority said it's considering new rules governing the crowdfunding industry after finding firms fell short of providing fair and transparent offerings to investors.
It's "difficult" for investors to assess the risks and returns of investing on crowdfunding platforms that arrange loans or equity investments, the FCA said Friday in a statement on its website following a five-month review of the industry. The financial regulator also said that some peer-to-peer firms do not comply with requirements to be "clear, fair, and not misleading" in their promotions. The agency did not name specific companies.
The report comes as both sides of the crowdfunding industry -- peer-to-peer lending and equity investing platforms -- enjoy surging growth in Britain. Monthly origination from peer-to-peer lenders is on course to exceed a record 1 billion pounds ($1.26 billion) in the fourth quarter, while equity crowdfunders will issue more than 120 million pounds for small companies in 2016, a five-fold jump from 2013, according to AltFi Data Ltd.
Andrew Bailey, the FCA's chief executive, said the industry is evolving at such a rapid pace that some platforms are becoming too complicated for investors to understand. Some peer-to-peer lenders, for instance, use reserve funds to offset loan defaults. Bailey said he's concerned this approach may lead investors to believe their investments will be guaranteed not to lose money, a claim that is prohibited by FCA rules.
"We have seen some of that, and we do not want to paint everyone with the same brush, but we are going to subject these provision funds to scrutiny," Bailey said in an interview.
Managing Conflicts
The FCA concluded that some platforms were not sufficiently managing the risks or conflicts of interest in their operating models. It also found that some peer-to-peer lending firms had inadequate plans for winding down their operations in the event they fail due to defaults. The Peer-to-Peer Finance Association, a London-based trade group, said it welcomed the FCA's report.
"The critical test for any review of this sort is whether the sector, overall, is delivering beneficial outcomes for investors and borrowers," Christine Farnish, the association's chair, said in a statement. "It is not easy for a regulator to grapple with new market entrants, especially when they are disrupting traditional business models and challenging powerful incumbents."
Online lenders have arranged a cumulative 6.5 billion pounds since 2009, making Britain the world's No. 3 market behind China and the U.S.
Bailey said the implementation of new rules could further delay the permanent authorization of a number of peer-to-peer platforms. For more than year, the FCA has been reviewing applications from Zopa Ltd., Funding Circle Ltd., RateSetter Ltd. and other companies that have been operating on temporary licenses. They are eager to receive permanent approval because they want to begin offering their loans as a new asset class in the government's Individual Savings Accounts program. It enables consumers to set side assets on a tax-free basis for retirement.
"The models are moving targets and that's made the authorization process more difficult," Bailey said.