Farage Predicts 'Norwegian-Style' Deal for Britain Post-Brexit
By
U.K. could leave EU in 'two weeks,' former UKIP leader says

Prime Minister May has said she'll invoke Article by March-end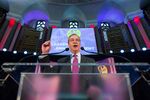 Former U.K. Independence Party leader Nigel Farage, who spearheaded the campaign for Brexit, said he expects Prime Minister Theresa May to negotiate a new relationship with the European Union akin to that of Norway.
The U.K. could leave the EU "in two weeks," Farage said Thursday on BBC television's Question Time program. "We could just say that's it, we're leaving, and we'll trade with you on WTO rules," he said, referring to World Trade Organization tariffs and regulations.
May has said she'll invoke Article 50 of the EU's Lisbon Treaty, the formal trigger for Brexit, by the end of March, starting the clock on two years of negotiations with her counterparts in the other 27 members of the bloc. The premier has yet to flesh out her aims for the discussions, saying repeatedly that she wants to maximize access for British businesses to the EU's single market, while regaining the ability to control the number of EU immigrants coming to the country.
"The reason it's going to take a long time is because my impression is that this government and most people in parliament want us to stay in the single market," Farage said. "I think we're going to finish up in the spring of 2019, effectively with a Norwegian-style deal which is not what the people of this country voted for, but that I think is where it's going to go."
Norway isn't an EU member, but it has access to the single market, and as part of that, it's required to pay money into the EU central budget and accept the free movement of people.
'Bring Back Democracy'
May has said that revealing her negotiating strategy will give the EU-27 an upper hand in the Brexit talks. Even so, lawmakers voted in parliament on Wednesday for an opposition Labour Party motion requiring May to publish details of her Brexit aims before triggering Article 50. May amended the motion so that lawmakers also approved her timetable to begin discussions by the end of March.
Britain voted by a 52 percent to 48 percent margin for Brexit after a campaign that split the country and exposed divisions in May's Tory party. Many of the areas that were most pro-Brexit were Labour constituencies in the north and center of England, even though the opposition party campaigned for Remain. That's left UKIP, which has only one elected member of parliament, eyeing Labour seats where once it targeted Tory ones.
"If we don't get our fishing waters back, we don't get our passports back, we don't get away from the European court of justice having the ability to rule on our businesses, our industries, and if we don't get back the ability to make our own trade deals, then I think the 2020 general election could well be a very big replay of this referendum," Farage said. "Bring back democracy, bring back self governance. That's what we voted for and that's what we want."
Before it's here, it's on the Bloomberg Terminal.
LEARN MORE