Year's Best Miner Cliffs Says Trump to Keep Good Times Rolling
By
Expects company to generate 'a lot' of cash, pay down debt

Infrastructure plan would build on gains from trade cases: CEO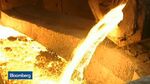 The head of Cliffs Natural Resources Inc. was preparing for a "worst-case scenario" next year. Instead, he got Donald Trump.
Cliffs, the world's best-performing raw materials producer this year, will probably generate "a lot" of cash, with which it will pay down debt, Chief Executive Officer Lourenco Goncalves said. He assigned President-elect Trump's focus on infrastructure building and a crackdown on unfair trade as reasons his company and the steel industry are poised for more good times.
Shares of the Cleveland-based company almost quadrupled this year through early November amid signs of improving demand and successful U.S. trade cases against steel imports, which helped boost domestic steel prices. With Trump pledging to spend $1 trillion on infrastructure and to further clamp down on trade cases against countries including China, the shares have surged an additional 69 percent since the election.
"If Mr. Trump implements a portion -- he doesn't need to implement everything -- of what he is promising, not only will the country be a lot better after these things are implemented, but businesses like Cliffs and all steel mills in the United States will benefit very much," Goncalves said in an interview Thursday.
The stock fell 0.2 percent to $10.37 in New York on Thursday. Shares have surged 556 percent this year, the best performance on the Bloomberg World Iron/Steel Index of 75 companies and the 455-member Bloomberg World Basic Materials Index.
Cliffs is also the biggest gainer among major mining and metal companies in the bond market this year, with a return of 153 percent. That's almost five times the average gain. The yield on its notes due 2040, which began the year at about 35 percent, is now down to 8.4 percent.

Domestic steel producers, which are Cliffs' customers, have benefited over the past year from anti-dumping and countervailing duties that have curtailed shipments from China and other countries. Goncalves said the Obama administration's efforts on imports cases resulted in a "very well-rounded situation."
"Everything that came since Mr. Trump became president-elect is all good, and adds to what we had before," Goncalves said. "So, even though I was not planning for that, I was planning for what I believe at this point was a worst-case scenario. So Trump is the best-case scenario."
Iron ore delivered to Qingdao China is up 87 percent this year, surprising analysts who repeatedly forecast a pullback amid the expectation of rising global supply and dwindling demand in China, the world's biggest consumer.
"The commodities desks of the big financial institutions have been beating the drum that iron ore prices would go down, would collapse, would go down to numbers that are totally crazy," Goncalves said.
He said where prices go from here all depends on the three biggest iron ore producers, Rio Tinto Group, BHP Billiton Ltd. and Vale SA. He said the market is watching whether Rio and Vale stick to plans to step back from the industry's decade-long strategy to keep pumping ever-expanding supply onto the global market.
Paying down debt will continue to be the most important use of proceeds of any cash that they generate, Goncalves said. He said he has no plans to raise equity at this point because he doesn't want to dilute the shares.
"We are going to generate a lot of profits, we are going to generate a lot of jobs," Goncalves said. "And we are going to generate a much better infrastructure that is very, very much needed in this country."
Before it's here, it's on the Bloomberg Terminal.
LEARN MORE