U.S. to Review Rosneft Deal Finance for Sanctions Violations
By
Deal shows tough times have come to Russia: U.S. official

Glencore said deal would likely close in mid-December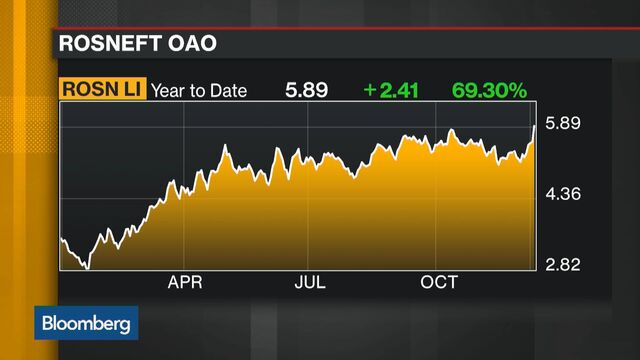 A U.S. government official said the Glencore-Rosneft deal wasn't what it was hoping for when it imposed sanctions on Russia, and Washington will need to review the deal and how it's financed.
"We are reviewing the deal, looking at how it actually works and what its implications are," Amos Hochstein, U.S. special envoy for international energy affairs, said on Bloomberg TV on Thursday. "We're speaking as well with our friends in Brussels to see how we all see the details of this."
Commodity trader Glencore Plc and Qatar's sovereign wealth fund agreed to buy a 10.2-billion euro ($11 billion) stake in Russia's largest oil producer Rosneft PJSC. The deal with the Russian oil giant is the biggest foreign investment in Russia since the crisis in Ukraine. The U.S. and European Union have targeted Rosneft with punitive measures.
The deal boosts Glencore's access to oil and brings future influence, Paul Gait, an analyst at Sanford C. Bernstein in London, said in a research report. It helps Glencore's position "in the highly competitive sourcing of physical barrels for trading businesses."
The Treasury Department "will carefully look at a transaction like this" and "evaluate what impact sanctions will have on it," White House press secretary Josh Earnest said Thursday.
Revenue Generator
"I wouldn't look at it as the greatest deal of the year, as much as it is Rosneft is admitting, and the government in Russia is admitting 'we need the money' and we're willing to sell a 20 percent stake in our number one revenue generator for the budget," Hochstein said. "I'm not looking at this as something that we want to block necessarily, we just want to make sure the sanctions and the laws that we put in place" are kept, he said.
While it's difficult to predict how the review will play out, Glencore likely wouldn't have engaged in negotiations if the company saw a real chance of the deal getting blocked, said Sergey Donskoy, an energy analyst at Societe Generale SA in Paris.
"They are generally very cautious," Donskoy said in an interview. While the deal is structured in a way "to make all investors feel quite safe," delays in closing it "can't be ruled out."
Crimea Annexation
In 2014, the U.S. and EU stiffened sanctions against Russian companies following Russian military intervention in Ukraine and the country's annexation of Crimea. Russia threatened retaliation and said the penalties undermined the peace process.
In a statement Wednesday, Glencore said it would commit 300 million euros in equity, with the rest coming from the Qatar Investment Authority -- itself Glencore's largest shareholder -- and bank financing. Glencore said the deal was still in "final-stage negotiations" and would likely close in mid-December.
Peter Grauer, the chairman of Bloomberg LP, the parent of Bloomberg News, is a senior independent non-executive director at Glencore.
— With assistance by Justin Sink
Before it's here, it's on the Bloomberg Terminal.
LEARN MORE