Trump to Nominate Fast-Food CEO Andrew Puzder as Labor Secretary
By
Puzder an outspoken critic of Obama labor policies, Obamacare

Hardee's boss wants to boost U.S. labor participation rate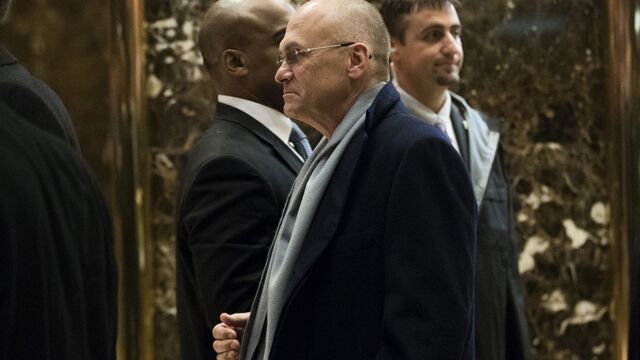 President-elect Donald Trump intends to nominate as labor secretary Andrew Puzder, chief executive of the company that owns the Hardee's and Carl's Jr. burger chains, who opposes raising the federal minimum wage, his transition team announced Thursday.
"Andy will fight to make American workers safer and more prosperous by enforcing fair occupational safety standards and ensuring workers receive the benefits they deserve, and he will save small businesses from the crushing burdens of unnecessary regulations that are stunting job growth and suppressing wages," Trump said in a statement.
Puzder, who served as an economic adviser to Trump during the campaign and is a major Republican donor, has been an outspoken critic of the Obama administration's labor policies and of the president's signature legislative achievement, the Affordable Care Act.
"The president-elect believes, as do I, that the right government policies can result in more jobs and better wages for the American worker," Puzder said in the statement.
Among other things the Department of Labor, which employed about 17,500 in 2014, promotes and develops the welfare of wage earners, job seekers and retirees in the U.S., according to a mission statement on its website. Occupational safety and unemployment benefits are within its brief.
Overtime Rule
The nomination is subject to Senate confirmation. Puzder, 66, is CEO of CKE Restaurants Inc., parent company of the fast-food brands. He's a graduate of Washington University Law School and was a trial attorney in St. Louis before joining CKE in 2000. 
Puzder was an economic adviser to 2012 Republican presidential nominee Mitt Romney and has been a contributor to Republican Party organizations and candidates. He and his wife, Deanna, each gave $75,000 to the Trump Victory joint fundraising committee, according to a Bloomberg Government analysis of Federal Election Commission data.
The selection of Puzder sheds light on what direction the Labor Department might take under Trump. Puzder has a long record of commentary on job creation. As well as opposing efforts to raise the minimum wage, he's against an Obama administration rule that would expand the number of workers eligible for overtime pay. The rule, which would affect about 4.2 million workers, was temporarily blocked by a federal judge in November.
'Special Interests'
Tapping Puzder "might be the surest sign yet that the next Cabinet will be looking out for the billionaires and special interests, instead of America's working class," said New York's Chuck Schumer, who will be the Democratic leader in the Senate. Puzder is "exactly the opposite" of a labor secretary who will fight for American workers, Schumer said.
Richard Trumka, president of the AFL-CIO labor federation, said in a statement that Puzder's business record "is defined by fighting against working people."
"The president-elect campaigned on standing up for working people, yet his actions thus far have undermined these claims," Trumka said.
Puzder has said Obama's health-care overhaul hurt his company's growth and forced it to rely more on part-time workers. Some Hardee's and Carl's Jr. locations also are shifting to touch-screen kiosks. Those stores need fewer employees behind the counter, Puzder said, a move made desirable by what he called ill-advised government policies and taxes.
Labor Force
In an interview in September, Puzder decried the U.S. labor participation rate, which has been falling steadily since peaking at 67.3 percent in 2000. It was 62.7 percent in November even as the unemployment rate fell to 4.6 percent. He said there's a need for employment opportunities at the low end and high end.
"Low-skill jobs are important because that's what gives you access to the high-level jobs," he said. "If you focus on redistributing income, you're not going to create growth."
He's written on a variety of topics affecting businesses, including problems posed by a potential shortage of workers.
In an opinion article published in the Wall Street Journal in July, co-written with Heritage Foundation economist and Trump adviser Stephen Moore, Puzder said legal immigration was an asset to the nation and that deporting the 11 million people in the U.S. illegally "is unworkable." But he said Trump's proposals to build a border wall, stiffen enforcement and defund cities that provide sanctuary to undocumented immigrants was "reasonable and sensible given that voters demand action."
Workforce Issues
Puzder and Moore described themselves as free traders who oppose putting punitive tariffs in place, which could put them at odds with Trump. They also said taking a tougher stance in trade negotiations may be necessary to restore public support for open markets.
The National Retail Federation, the trade group that represents chain restaurants along with other businesses, released a statement praising Puzder as someone who has the experience to understand workforce issues and job creation.
CKE, a closely held company based in Carpinteria, California, has about 3,700 restaurants across most U.S. states and 28 countries. The chain filed for an initial public offering in 2012 but later delayed the move, citing uncertainty about health-care and ingredient prices. The company is relocating its headquarters from the beach-side town about 80 miles (130 kilometers) north of Los Angeles to the lower-cost Nashville, Tennessee, area -- a move expected to be completed in 2017.

— With assistance by Leslie Patton
Before it's here, it's on the Bloomberg Terminal.
LEARN MORE