Trump's Softer Stance on 'Dreamers' May Spur a Fix, Senators Say
By
Cornyn, No. 2 GOP leader, says he's open to action in 2017

Graham, Durbin also seek bipartisan help for young immigrants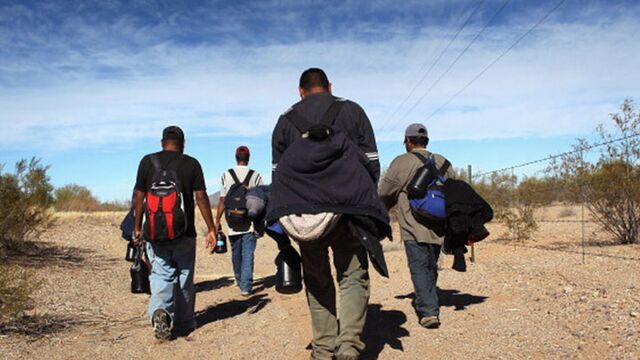 Congress may consider legislation next year to allow legal status for young undocumented immigrants, the No. 2 Senate Republican said Thursday as members of both parties said they were encouraged by Donald Trump's apparent softening of his stance on the matter.
Trump told Time magazine this week that he wants a solution for young immigrants shielded from deportation by President Barack Obama in a 2012 executive order that Trump has vowed to cancel. Senate Republican Whip John Cornyn said the president-elect's new comments could provide momentum for a congressional fix, following enactment of legislation to secure the border with Mexico. It's "a question of sequence," he said.
"I don't think he's interested in hurting the children who came with their parents when they were still a minor," said Cornyn of Texas. "They're not culpable of anything. I think there's a reasonable way to deal with that, and I think he's indicated he's open to that."
Trump promised during his campaign to build a wall along the U.S.-Mexico border and deport the 11 million undocumented immigrants in this country. He told Time this week he won't back off a pledge to cancel Obama's executive orders on immigration, but said he wants a solution for almost 750,000 people brought to the U.S. as children by their parents.
"We're going to work something out that's going to make people happy and proud," Trump said. "They got brought here at a very young age, they've worked here, they've gone to school here. Some were good students. Some have wonderful jobs. And they're in never-never land because they don't know what's going to happen."
QuickTake on Debate Over Immigration Law
Republican Senator Lindsey Graham and Democratic Senator Richard Durbin, who are pushing a bipartisan plan to address the young immigrants' status, said Trump's comments could provide momentum. The two senators support a permanent fix, and also are working on legislation to block the deportations if Trump were to rescind Obama's order.
Trump's comments "present an opportunity to do the right thing" for the young immigrants, Graham and Durbin said in a joint statement. "There is bipartisan support for this in the Senate and we will soon have a legislative response ready if needed. They have much to contribute to the country they love."
Obama issued the executive order after Congress didn't act on proposed legislation called the Development, Relief and Education for Alien Minors Act, or DREAM Act, which would have provided a path to legal status for young undocumented immigrants.
When they applied for protection under Obama's order, those immigrants provided information including fingerprints and relatives' home addresses. They received renewable, two-year work permits and Social Security cards. Advocates for the immigrants say the information could be used to deport them once Trump comes to power.
Pardons Sought
House Democrats aren't waiting to find out whether Trump is serious about aiding the immigrants, known as "Dreamers." On Wednesday, 60 of them sent a letter to Obama reiterating a request that he grant presidential pardons to those covered by the order. While the White House has said pardons can't address their immigration status, the lawmakers said he could at least shield them from of civil immigration violations.
While most Senate Republicans want the debate on immigration to center on border security and perhaps some immigration-law changes later, others are calling for action to aid the younger immigrants as part of a more comprehensive immigration bill next year.
Senator John McCain, an Arizona Republican, said there is no immediate need to address the needs of the "Dreamers" unless Trump actually reverses the executive order. McCain said he wants a permanent solution that is more likely to become law as part of a border security measure.
'Can't Pick It Apart'
"It has to be part of comprehensive immigration reform," he said. "You can't pick it apart."
In 2015, Trump promised to deport everyone who is in the U.S. illegally, without exception, before saying in the general election that he would focus on deporting criminals. He ruled out legalization for people in the country without proper documentation, with no exceptions for young people brought here illegally.
Obama's order allows work permits for people age 31 and under who were seeking or completed an education and who were in the country for at least five years. He later extended the relief to 3.6 million undocumented parents of American-born children, but that is on hold pending resolution of a lawsuit.
— With assistance by Sahil Kapur
Before it's here, it's on the Bloomberg Terminal.
LEARN MORE