Slack Makes Diversity a Priority While Quadrupling Head Count
The fast-growing tech startup wanted to hire thoughtfully.
By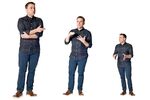 In May 2014, after years of resistance, Google released its first diversity report. Apple, Facebook, and other big-name tech companies soon followed, laying bare the industry's dearth of women, blacks, and Hispanics. Around that time, Slack Technologies was a 30-person San Francisco startup building an office-collaboration chat tool. One of its executives wrote a manifesto committing the company to hiring "people with as many diverse experiences and backgrounds as we can." When it won a Crunchies award in February for Fastest Rising Startup, the company sent four women of color—all engineers—to collect the trophy. Here, Chief Executive Officer Stewart Butterfield discusses the occasional tense conversations and staffing delays that arise when a fast-growing company tries to hire thoughtfully.

"We ended 2014 with maybe 80 people and ended the next year with 320 people. And since then we've more than doubled. It's a pretty breakneck pace. It was like this animated GIF of someone hanging off the front of a train dropping tracks as they go.
 
When we were about 30 people, we decided we wanted to avoid making decisions without thinking about them first. Like hiring people you've worked with before. Obviously if there's an imbalance in the workforce already, you're just perpetuating that.
 
Once there was a publicly articulated position on diversity within the company, then there was actual social pressure on hiring managers and recruiters. So it was like, "Uh, you just hired another white guy." It might be said in a little bit of a tongue-in-cheek way, but it was serious. One of the things I've learned over the course of my career is that people don't like to look like chumps.
 
I don't want to throw recruiters under the bus here, but they're frequently operating under extreme pressure to find someone to fill a role. What if the metric for success changes to, how wide can you cast the net to find people who are not going to be white guys? Sometimes that means the hiring manager would have to really insist that we are not going to make a decision until you find at least one person of color or at least one woman as well.
 
We were hiring a design manager, and we really took our time, which is a hard choice in the sense that we really need people. We ended up hiring a woman to head up communications and design, but that search took much longer—weeks, maybe months—than we would have liked.
 
Slowing down a management hire has a real cost for people who are on the front lines. There are people who are massively overworked. We have lower productivity overall, work is less pleasant, and it's more difficult to get things done because we're missing people.
 
We went to hire a VP of engineering, who pretty much has to have experience managing at least a few hundred engineers. We found zero black women with that experience. It's not to say they're not out there, but we did look pretty hard.
 
But if we can't find someone now, what we can do is make sure someone who works at Slack can gain that experience. And then 10 years from now, when the next hot startup is recruiting for VP of engineering, there's someone who can take that role."
Before it's here, it's on the Bloomberg Terminal.
LEARN MORE