For Lampert, Another Loss at Sears Adds Pressure to Sell Assets
by and
Company's 13 percent revenue decline is worst in a year

Retailer has already unloaded real estate, well-known brands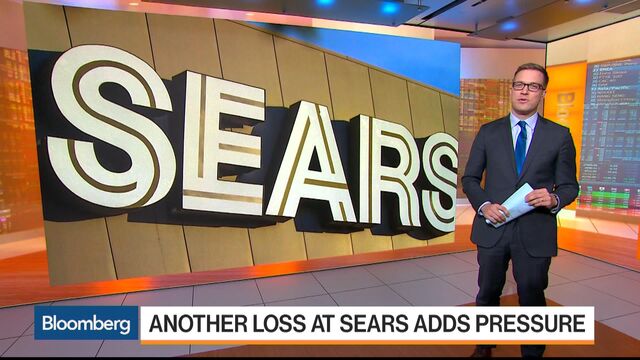 Edward Lampert won't find what he wants in the 2016 Sears Wish Book: a quick end to the pain at Sears Holdings Corp., his long-faded icon of American retailing.
Lampert, the billionaire behind the hedge fund ESL Partners, has spent years propping up the department-store chain by selling off its household brands and real estate in hopes that retail business he bought more than a decade ago will return to profitability. 

But the red ink keeps getting deeper. On Thursday morning, Sears reported yet another big quarterly loss -- $748 million -- bringing the cumulative damage to $9.35 billion in the past eight years.
The results put pressure on Lampert -- the retailer's chief executive officer, chairman and largest shareholder -- to find more assets to sell to generate cash. Lampert has already offloaded some of the company's most recognizable brands, such as the Lands' End clothing business and the Hometown & Outlet Stores chain, along with sizeable chunks of real estate. Sears now is exploring options for its Kenmore, Craftsman and DieHard brands, as well as its Sears Home Services business. The company said on Thursday that it was continuing those efforts and that there was no assurance it will complete a transaction.
Cash Gap
Sears needs to raise about $1.5 billion to make it through 2017 comfortably, said Christina Boni, an analyst at Moody's Investor Service. The company does, however, have plenty of assets to make up the gap, whether it's selling brands like Craftsman or monetizing the real estate it still owns, she said. That will give the chain more time to pursue a turnaround that centers on catering to its best customers and stores. But that plan will be even harder to accomplish with visits to many malls declining, she said. 
"That doesn't make their challenges any easier," Boni said in an interview. "Mall traffic continues to be tough for everyone, even the top players."
Still, investors see opportunities in the bleak outlook, and Sears assured shareholders that it was "fully committed" to being profitable again. While the stock is down 38 percent this year, the shares gained 4.5 percent to $12.66 at 12:48 p.m. on Thursday.
So far, Lampert has focused on driving sales through the company's remaining stores with the Shop Your Way rewards program and improving its digital shopping experience. Still, sales at locations open for at least a year -- a key retail performance gauge known as comparable-store sales -- fell 7.4 percent last quarter. That included a 10 percent plunge at U.S. Sears locations and a 4.4 decrease at Kmart. The company's total revenue decline was its worst in four quarters.
All told, the company's net loss widened to $6.99 a share -- the biggest in more than four years -- from $4.26 a year earlier. Sales slumped 13 percent to $5.03 billion, the Hoffman Estates, Illinois-based company said. 
The retailer said it had $258 million in cash as of Oct. 29 and $174 million available to borrow through its revolving credit line.
While Sears has enough liquidity for the near term, it will need to monetize more assets or borrow more money before next year's holiday season, Kirk Ludtke, an analyst at Cowen & Co., said in a note Thursday.
"The path to cash flow break-even remains unclear, but we suspect that it involves the closure of a significant number of unprofitable stores," Ludtke said.
Before it's here, it's on the Bloomberg Terminal.
LEARN MORE