Style
The English Are Coming for Your Closet
Patrick Grant, owner of Savile Row tailor Norton & Sons, is keeping British style alive and well, one heritage brand at a time.
By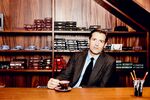 It's the first break of a whirlwind, five-day business trip for Patrick Grant, the 44-year-old owner of Savile Row tailor Norton & Sons, and he wants to talk about buttons. Specifically, how his jacket doesn't have any sewn onto the cuff, unlike the traditional British bespoke suit, which has two working buttons and two dummies at the end of each sleeve.
"There's just no need," he says as he lays a napkin in his lap and tucks into an Ugly Burger at the National, Geoffrey Zakarian's restaurant inside New York's Benjamin Hotel. "It's extraneous stuff that doesn't mean anything anymore."
Since buying Norton & Sons in 2005, Grant has become one of the most convincing voices for bringing stodgy British menswear into the informal future. Today he's wearing an unstructured wool-fresco suit of indeterminate color. "It's kind of gray and brown," he says. "An odd combination—but I like it a lot."

Although the light weight of Grant's suit gestures toward the house's early-1900s heyday as a colonial outfitter, his New York trip recalls the midcentury tradition of sending tailors on annual 28-city tours to fit customers in the U.S. Later in the afternoon, he'll attend client appointments for Norton & Sons, where a two-piece suit starts at about $3,500. In the evening, he'll take a meeting at Bloomingdale's on behalf of E. Tautz, his youthful, ready-to-wear line, designed with an eye for understated colors and an avant-garde play of shapes.
In between, his phone buzzes with business related to other brand extensions and the looming prospect of the fifth season of The Great British Sewing Bee, a genial BBC2 reality show. In his role as a judge, he delivers Tim Gunn-style notes on craft, paired with the face of a young Ernest Hemingway.

If time permits, Grant will squeeze in a trip to 10 Ft. Single by Stella Dallas, his favorite Brooklyn thrift store. He has a knack for hitting the inspirational jackpot in such places. "I found this amazing shirt in a flea market in Rome last May," he says. "We took the idea of that oversize shirt—narrow cut, big sleeves, weird pockets, clearly from the early-to-mid-'80s—and that has become one of the best-selling things we do."
Grant's whole career resembles an extended rescue-and-recovery mission. He grew up in Edinburgh, where his formative exposure to fashion was his father's modish Sixties suits, which Grant began wearing when he was 14. After graduating from the University of Leeds with an engineering degree, he spent nine years marketing fiber optics, then went to the Saïd Business School at Oxford for an MBA he had no specific plan to use.

Then, while paging through the Financial Times, he saw an ad that listed Norton & Sons for sale. Founded in 1821, the house was not as old as Henry Poole (which conceived the tuxedo), nor as innovative as Anderson & Sheppard (which developed the drape suit for the Duke of Windsor), but it had once counted Cary Grant (no relation) and Kaiser Wilhelm II as clients. In more recent years, the company had attempted to diversify by selling guns and offering sporting tours, and by the time Grant bought it, it had only 20 clients.

Grant streamlined the focus to tailoring and balanced the house's traditional approach with a forward-thinking perspective—like removing buttons from jacket cuffs and back pockets from trousers. His ability to discern what he calls the "subtle difference between a cloth that feels contemporary and one that feels old-fashioned" has made Norton a favorite among the style cognoscenti.
Norton & Sons is still small, making fewer than 300 suits a year. But in 2009, Grant revived E. Tautz, a trademarked name that was part of the deal; it's now carried by J.Crew in the U.S. and in 16 retail locations in Japan.
His obsession with tailored clothes dovetails with a deep respect for history. "Patrick wears what he believes in," says his Sewing Bee colleague Esme Young. "When he wears a suit, he is promoting his brand and a certain quintessential Britishness."
Grant is driven by a lament for old British brands he grew up loving but that have been "ruined" by callous ownership. He bought Norton & Sons with the belief that heritage had staying power.
"The overriding zeitgeist was swinging away from mass consumption, mass production, mass luxury, and back to appreciation of smallness and craftsmanship," he says. "I felt there was something incredibly special about this small business that had only ever done one thing"—recent history notwithstanding—"and done it extremely well."

Grant added another rescue to his portfolio in 2015. Cookson & Clegg, a manufacturer that started in 1860 and made the British uniforms for World War I, announced it was going under that February. Two months later, Grant bought it—and then made a deal to collaborate with Club Monaco, the casual-clothing retailer owned by Ralph Lauren, on a small collection of military-influenced trench coats and field jackets due out this month. All the pieces are assembled at the Cookson & Clegg factory with its typically fanatical devotion to historical detail.
The purchase was only natural, Grant says. "This is one of our best suppliers. Once our customers find a product and like it, I want to keep it exactly the same." But then again, he adds, "I'm a sucker for an old-business sob story."
Before it's here, it's on the Bloomberg Terminal.
LEARN MORE