John Glenn, First U.S. Astronaut to Orbit Earth, Dies at 95
By
Ohioan served 24 years in the Senate and sought the presidency

His 1962 mission aboard Friendship 7 made him a national hero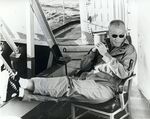 John Glenn, who was celebrated as a national hero after becoming the first U.S. astronaut to orbit Earth and went on to serve 24 years in the Senate and seek the presidency, has died. He was 95.
He died Thursday at Ohio State University's James Cancer Center in Columbus, Ohio, according to Hank Wilson, director of communications at the school's John Glenn College of Public Affairs.

"John always had the right stuff, inspiring generations of scientists, engineers and astronauts who will take us to Mars and beyond -- not just to visit but to stay," President Barack Obama said in a statement.
"Today we lost a great pioneer of air and space in John Glenn," President-elect Donald Trump said on Twitter. "He was a hero and inspired generations of future explorers."
Glenn did much more than just orbit three times in 4 hours, 55 minutes and 23 seconds on Feb. 20, 1962. His mission revitalized the U.S. space program, which had been demoralized after the Soviet Union put cosmonaut Yuri Gagarin into orbit 10 months earlier. That Glenn's mission had been delayed 10 times over two months for technical problems only heightened the anxiety.
Nation Watches
Millions of Americans listening to transistor radios or watching on television, including thousands of spectators at New York's Grand Central Terminal and countless schoolchildren, heard the voice of NASA mission control say, "Godspeed, John Glenn" as his Friendship 7 capsule was launched into space from Cape Canaveral, Florida. Glenn traveled about 81,000 miles (131,000 kilometers) before splashing down in the Atlantic Ocean southwest of Bermuda.

When he landed, the 40-year-old Glenn was a national sensation. His photo was on the cover of Time and Life magazines. He addressed a joint session of Congress and was given a ticker-tape parade that drew 4 million people to lower Broadway in Manhattan, the biggest crowd for such a tribute.
"If presidents were elected by public referendum, he could have abolished the Constitution and been proclaimed president overnight," BBC commentator Alistair Cooke said.
Space Race
Six months after Glenn's first space mission, President John F. Kennedy announced plans to beat the Russians in the Cold War race to put a man on the moon by the end of the decade, a promise that was fulfilled in July 1969.
"The astronauts, all of us, really believed that we were locked in a battle of democracy versus communism, where the winner would dominate the world," Glenn told the Cincinnati Enquirer in 2002 on the 40th anniversary of his flight.

Glenn would receive another New York ticker-tape parade 36 years later for returning to space on the shuttle Discovery and becoming, at age 77, the oldest person to travel in space. He was still flying at 90, stopping not because of age but because he sold his airplane in 2011.
A decorated Marine fighter pilot, Glenn was the last survivor among the seven Project Mercury astronauts who were celebrated in Tom Wolfe's 1979 book "The Right Stuff" and the 1983 film of the same name. (Glenn said in a January 2012 interview that he liked Wolfe's book, didn't appreciate the amount of "fiction" added to the movie and never met Ed Harris, the actor who played him.) In the small fraternity of original astronauts, Glenn was known for his clean-cut piety.
Senate Achievements
As a Democrat representing Ohio in the U.S. Senate from 1975 to 1999, Glenn championed federal funding for NASA, the International Space Station and scientific research. He was the principal author of the Nuclear Nonproliferation Act of 1978, which sought to contain the spread of nuclear weapons.
To those who questioned whether the U.S. could afford an ambitious space program at a time of swelling budget deficits, Glenn said in 2012, "My view is just the opposite: Can we afford not to? It's a key area of research. I think the nation that leads in research and education is going to be the nation that is leader of the world 50 years from now, and I want to see that be us."
NASA Administrator Charles Bolden said Thursday in a statement: "Glenn's extraordinary courage, intellect, patriotism and humanity were the hallmarks of a life of greatness. His missions have helped make possible everything our space program has since achieved and the human missions to an asteroid and Mars that we are striving toward now."
Called 'Bud'
John Herschel Glenn Jr. was born on July 18, 1921, in Cambridge, Ohio, and spent most of his early life in nearby New Concord, where his father, John Sr., ran a plumbing company. His father and mother, the former Clara Sproat, had met at a local church and married in May 1918, two weeks before John Sr. shipped out to Europe to fight in World War I.
People in town called the elder Glenn "Herschel" and the younger Glenn "Bud," according to the 1999 book "John Glenn: A Memoir," written by Glenn with Nick Taylor. Glenn's parents adopted a baby girl, Jean, when he was about 5 years old.
He became hooked on flying after experiencing his first flight at 8, when he and his father spotted a man giving rides in a biplane on the way home from a plumbing job. He sated some of his appetite for flying by building model airplanes from sheets of balsa wood.
Glenn's father turned to selling Chevrolet cars during the Great Depression, while the family grew food in three separate gardens to make ends meet.
FDR's Influence
Glenn's political views were influenced by President Franklin Delano Roosevelt's New Deal, especially the creation of the Federal Housing Administration, which enabled struggling couples to keep their homes and others to buy or expand houses.
"Later, I would take those programs of the New Deal as object lessons in the role government can play in changing people's lives for the better," Glenn wrote.
In 1941, while at Muskingum College in New Concord, Glenn took advantage of a Commerce Department program to gain his pilot's license, which gave him an advantage when he volunteered for the Army following the attack on Pearl Harbor. He enlisted in the Navy in March 1942 after not being called to service by the Army Air Corps.
He did flight training in Corpus Christi, Texas, and decided to join the Marine Corps in 1943 for a chance to fly the new Lockheed P-38 Lightning twin-engine, twin-tailed fighter, beginning a 23-year career.
Glenn married the former Anna Margaret Castor of New Concord in April 1943. He and Annie, as she was known, had a son, John David, and a daughter, Carolyn Ann.
Advanced Flying
After completing advanced flight training, Glenn was posted at Marine and Navy stations in North Carolina and California, where he learned to fly the new gull-winged fighter, the Chance Vought F4U Corsair.
He flew 59 combat missions against Japanese forces in 1944 in the Marshall Islands, some of which included early uses of napalm, a jellied form of gasoline mixed with white phosphorus that would later gain widespread use and notoriety in Vietnam.
After the war, Glenn was assigned to Marine squadrons in North Carolina, California, Guam and Texas. He later volunteered for duty in China to help protect General George C. Marshall's negotiations between the Communists and Nationalists.
In 1949, he got his first exposure to jet fighters with Lockheed's P-80 Shooting Star. After numerous requests to serve in the Korean War, Glenn was ordered to the region in October 1952, where he flew F9F Panther fighter jets with Ted Williams, the Hall of Fame baseball player for the Boston Red Sox.
War Medals
He later flew 27 missions with the U.S. Air Force and shot down three MiG fighters in the closing days of the war, he wrote. He received six Distinguished Flying Crosses and an Air Medal with 18 clusters for his service during World War II and in Korea.
Glenn set what was then the transcontinental speed record in July 1957 when he flew an F8U Crusader to New York from Los Angeles in 3 hours, 23 minutes, the first flight to average supersonic speed.
In 1959, Glenn was chosen from among more than 100 military pilots as one of the Mercury 7, along with Walter M. "Wally" Schirra Jr., Alan B. Shepard Jr., Virgil I. "Gus" Grissom, Scott Carpenter, L. Gordon Cooper Jr. and Donald K. "Deke" Slayton. Candidates underwent a battery of physical and mental tests to determine their fitness for the program, or if they had what Wolfe famously called "the right stuff."
Grissom died in 1967, Slayton in 1993, Shepard in 1998, Cooper in 2004, Schirra in 2007 and Carpenter in 2013. The suborbital flights of Shepard, in May 1961, and Grissom, in July 1961, set the stage for Glenn's historic orbital mission.
Kennedy's Invitation
In the summer of 1963, Robert Kennedy invited Glenn to the family's compound at Hyannis Port, Massachusetts, to talk to the astronaut about running for the Senate from Ohio.
The next year Glenn announced a challenge to Senator Stephen Young. The move was spurred in part by the assassination of President Kennedy in Dallas in November 1963, which Glenn viewed as a call for "good people to enter public life," he said in his memoirs. Glenn had to withdraw from that campaign after suffering a concussion from a fall in his home.
The former astronaut retired from the military in January 1965 and took a job with Atlanta-based Royal Crown Cola. He became increasingly involved in politics again while working on Senator Robert Kennedy's presidential campaign.
He was in the California hotel when Kennedy was assassinated on June 6, 1968. Ethel Kennedy, newly widowed, asked Glenn to escort her youngest children back to Virginia. It was Glenn who told them their father had died.
Election Victory
After falling short in a second bid for the Senate in 1970, he finally won in 1974, defeating fellow Democrat Howard Metzenbaum (who hurt himself by claiming Glenn had "never worked for a living") in the primary and Republican Ralph Perk in the general election.
In April 1983, Glenn announced his candidacy for the Democratic presidential nomination but failed to win in Iowa, New Hampshire or the so-called Super Tuesday primaries. He withdrew from the race in March 1984.
Glenn's image was tarnished in the late 1980s when he was identified as one of the five lawmakers suspected of doing favors for Ohio native Charles Keating, the savings and loan executive and campaign donor who was convicted of fraud and racketeering. Glenn was eventually found to have done nothing worse than exercise "poor judgment."
In 1995, Glenn began to lobby for a return to space to study the effects of aging on bone loss and systemic disruptions brought on by prolonged weightlessness. He finally succeeded in January 1998 when NASA announced he would be joining the crew of the shuttle Discovery on a mission in October of that year.
Glenn's second space flight took him through 134 orbits and 3.6 million miles in 9 days before his arrival back at Cape Canaveral. Once again, he was celebrated along with the crew in a New York parade followed by a tour of Europe and Japan.
As significant as his shuttle flight was, it was the mission in February 1962 that Glenn will be most remembered for.
"It's a rare day I don't think about it, relive it in my mind," Glenn told the Enquirer when he was 80. "I can remember every switch I flipped, every move I made, every word I spoke and every word spoken to me. Clear as a bell."
— With assistance by Laurence Arnold
Before it's here, it's on the Bloomberg Terminal.
LEARN MORE