Home Insurance, but With a Philanthropic Twist
Lemonade is counting on a sleek app and a flat 20 percent cut of premiums to win over those turned off by traditional insurance.
By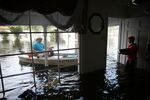 Aviv Gadot has lived in three different apartments in New York City but never purchased renters insurance. "I don't trust the companies," the software developer says. "I know they'll do everything in their power to keep my money." His attitude changed recently after he heard about a startup called Lemonade that began offering homeowners and renters insurance in New York state in September.
Along with an easy-to-use app, the carrier promotes a distinct business model. Lemonade keeps a flat 20 percent of your premium; an additional portion, as much as 40 percent, goes toward reinsurance (in case a catastrophe results in claims that outstrip premiums); the rest is set aside to cover claims. The twist: Whatever's left over at yearend goes to charities picked by the customers.
Lemonade's founders, Daniel Schreiber and Shai Wininger, are tech startup veterans who saw insurance as a huge industry that's been "unspoiled by innovation," as Schreiber says, for generations. That's changing: Kaenan Hertz, who leads the insurance fintech practice at Ernst & Young, says there's a host of upstarts seeking to "challenge, disrupt, or augment" various segments of the multitrillion-dollar global insurance market.
Schreiber and Wininger began by conducting a round of market surveys, which showed many consumers of property insurance view it as a "necessary evil," at best, Schreiber says. "People think, 'I'm throwing money down the drain. I'm not going to get it back when I need to.' " That makes it easier to rationalize fudging a claim upward—fraud is one of the industry's biggest expenses.
To help them reimagine what home insurance could be, Lemonade's founders recruited Dan Ariely, a professor of psychology and behavioral economics at Duke University and author of Predictably Irrational. Ariely, who studies how conflicts of interest are built into the business models of many financial institutions, says an insurer's "incentive to say no" to a claim is one example. "What deeply excited me," Ariely says, "was the idea that you can have an insurance company with no conflicts of interest."
Unlike disrupters in other industries (Airbnb and Uber, for instance), Lemonade is working within, not challenging, existing regulatory structures. The Manhattan-based startup has reinsurance backing from some of the biggest names in the industry, including Berkshire Hathaway's National Indemnity, Munich Re, and Lloyd's of London. As part of the licensing process, Lemonade ran simulations testing its model against a Hurricane Sandy scenario; Demotech, a service that evaluates financial stability, gave it a rating of A-Exceptional.
Lemonade is counting on its technology to help it sign up customers and limit overhead. Processes such as filing claims are heavily automated, dispensing with the need for legions of agents—a selling point with millennials, who are more than twice as likely as older generations to purchase insurance online, according to a Gallup poll. Lemonade believes its business model will also help cut down on fraud, because by submitting a false claim you'd be ripping off a good cause, not your carrier.
"The question is, is it scalable?" says Robert Hartwig, a professor at the University of South Carolina's Darla Moore School of Business and former president of the Insurance Information Institute. Many early insurers in the U.S. relied on a "mutual" model in which members of a profession or religion pool their resources. While Lemonade has put a modern spin on this method, its customers ultimately have to trust not only the company but also one another, Hartwig says. It will take time to determine if the company's philanthropic and other features prove durable enough to maintain "benevolence in claim behavior," he says, and keep costs low enough for Lemonade's 20 percent cut to make it profitable.
Lemonade has filed for a license to operate in California and plans to keep expanding in 2017. The carrier announced on Dec. 5 that it had closed a $34 million funding round, bringing its total to date to $60 million; backers include General Catalyst, GV (formerly Google Ventures), and Sequoia.
Gadot says it took him two minutes to sign up through the "really impressive" app, and he's paying just $5 a month. He's raved about Lemonade to friends and colleagues, prompting at least five to sign up. "It's actually bizarre when I think about it, to go around saying, 'Oh, you should get this insurance.' "
The bottom line: Lemonade is counting on a sleek app and a flat 20 percent cut of premiums to win over those turned off by traditional insurance.
Before it's here, it's on the Bloomberg Terminal.
LEARN MORE