Confusion Reigns in Markets as ECB QE Changes Spark Wild Swings
By and
German 10-year bund yield climbs to highest since January

Euro slides as ECB says it can increase buying if needed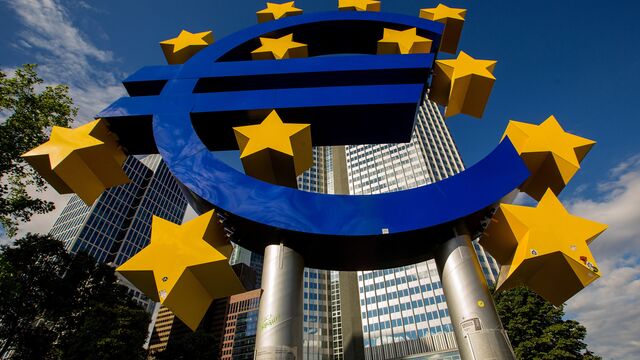 As the European Central Bank laid out its revamped asset-purchase program, different investors seized upon different parts -- leaving the overwhelming result one of market confusion.
For bond bears, the reduction in pace of the ECB's monthly purchases to 60 billion euros gave the first hints of a future without quantitative easing. For the bulls, the lifting of the deposit rate floor and drop in the lower-maturity bound for buying brought a raft of new securities into the central bank's shopping basket. Currency traders also initially focused on the reduction of monthly purchases, before zeroing in on the longer-than-expected extension.
The result: confusion and wild fluctuations in the market. German 10-year bund yields climbed to the highest since January, two-year notes rallied, before giving up gains. Meanwhile the euro, which spiked higher after the ECB announced its decision, tumbled, causing the shared currency to swing in a range of more than 2.5 U.S. cents.
"It's all over the place at the moment," said Jens Peter Sorensen, chief analyst at Danske Bank A/S in Copenhagen. "First everyone was disappointed about going from 80 billion to 60 billion, everybody writes 'tapering'. Then comes the buying below deposit rate, that means suddenly we don't have this potential squeeze in German bonds, so that gives you a correction in yields."
While most economists surveyed by Bloomberg predicted ECB President Mario Draghi would announce an extension to the bond-buying program, which was scheduled to run until at least end-March, a majority of the analysts forecast six additional months at the current pace of 80 billion euros. Three quarters of the respondents in the Bloomberg survey said the central bank would start tapering its purchases by late 2017, given the slowly accelerating inflation and a moderate, but steady, economic recovery.
"It always has to be confusing," Danske's Sorensen said. "They cannot do anything with clarity and transparency. Draghi is trying to satisfy both the other central banks, where some are very much against this whole program, and on the other hand trying to satisfy the public about still giving stimulus. That's a difficult task and that is why it always becomes a little bit complicated with the ECB."
Market Reaction:
Benchmark German 10-year bund yields rose nine basis points to 0.44 percent as of 2:56 p.m. in London, after touching 0.46 percent.
The yield on 30-year bonds surged 14 basis points to 1.16 percent, while that on two-year notes fell two basis points to minus 0.69 percent.
The euro dropped 1.1 percent to $1.0637, having earlier climbed to $1.0874, the highest since Nov. 11.
Bonds with a market value of 1.3 trillion euros had yields below the minus 0.4 percent deposit rate on Dec. 6, data compiled by Bloomberg show, making up about 22 percent of the region's total. Still, not all those bonds become eligible due to other eligibility criteria.
Before it's here, it's on the Bloomberg Terminal.
LEARN MORE