China Exports Snap Seven-Month Losing Streak as Imports Surge
Bloomberg News
Shipments increased 0.1% as imports jumped 6.7% in November

Exports, imports both beat all 43 estimates in Bloomberg polls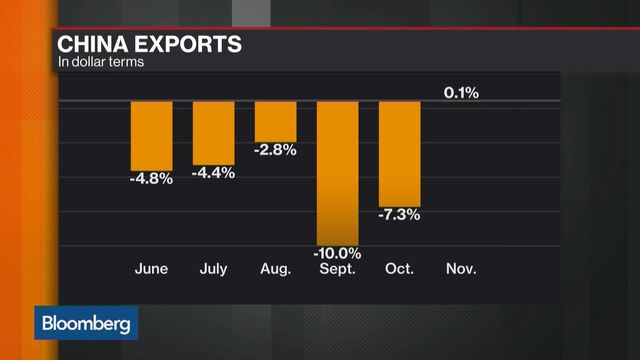 China's exports gained, snapping a seven-month losing streak, as a cheaper yuan aided foreign purchasing. Imports jumped the most in more than two years on strong demand for raw materials from copper to iron ore.
Key Points
Overseas shipments rose 0.1 percent in dollar terms from a year earlier in November
Imports climbed 6.7 percent, decreasing the trade surplus to $44.6 billion
Exports and imports both exceeded estimates of all 43 economists in Bloomberg surveys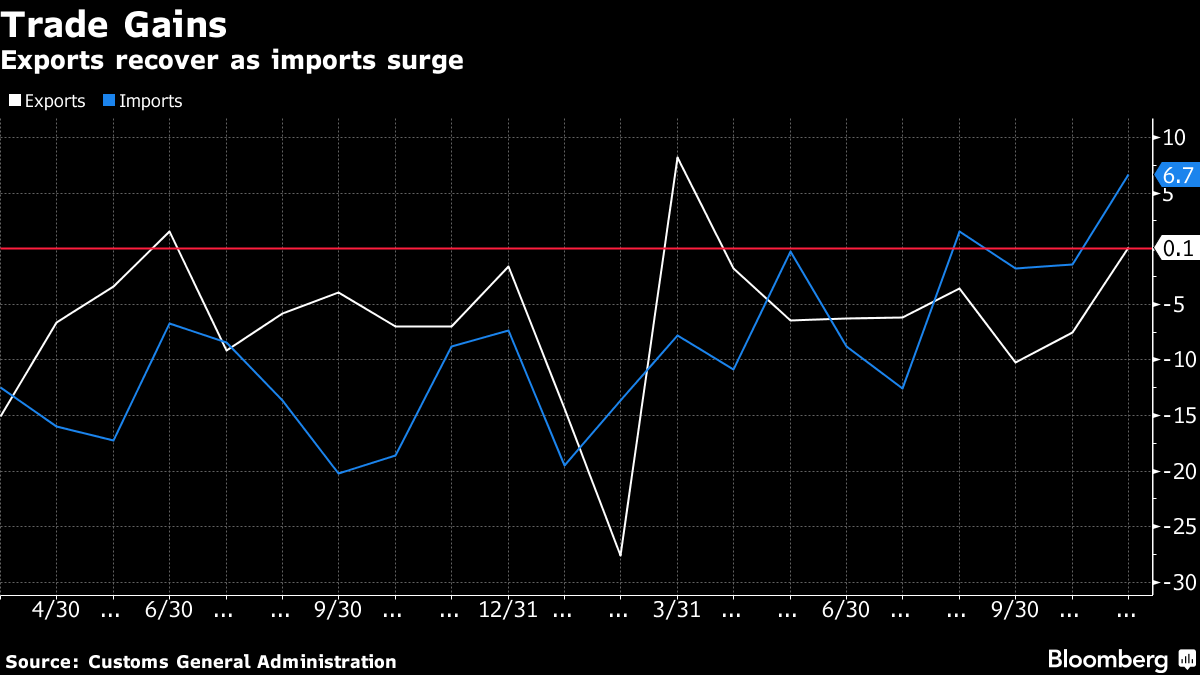 Big Picture
The yuan has fallen 10 percent against the U.S. dollar since a surprise devaluation in August 2015 while remaining stable recently against a basket of currencies. The data suggest global demand is recovering even as the world's largest exporter faces potential headwinds and policy uncertainty as U.S. President-elect Donald Trump prepares to take office Jan. 20.
Economist Takeaways
"Today's data pointed to a modest recovery in both external and domestic demand," Jing Li, greater China economist at HSBC Holdings Plc in Beijing, wrote in a note. "The outlook on the other hand, remains more uncertain given potentially more protectionist U.S. trade policy. This also gives policy makers more reason to accelerate domestic reflation policies."
"Better-than-expected trade data out of China today reflects both an uptick in global demand as well as the continued strength of the domestic economy," said Julian Evans-Pritchard, an economist at Capital Economics Ltd. in Singapore. "Despite today's positive surprise, the medium-term outlook for Chinese trade remains challenging."
"Looking forward, the base case is that China's exports will return to growth in 2017 on yuan weakness and stronger U.S. demand," Tom Orlik, chief Asia economist at Bloomberg Intelligence in Beijing, wrote in a report. "The big unknown is what happens to U.S. trade policy, with the risk that tariffs could choke off overseas sales."
"Recovering domestic demand has pushed up imports," said Larry Hu, head of China economics at Macquarie Securities Ltd. in Hong Kong. Exports turning positive "reflects a wide improvement in the global economy this year."
The Details
Exports to the U.S., China's largest trading partner, rose 8.1 percent 
In yuan terms, exports rose 5.9 percent and imports jumped 13 percent
Copper imports climb, ore purchases surge to record
Steel exports set to contract for first year since 2009
(An earlier version of this story corrected China's exports to the U.S.)
— With assistance by Xiaoqing Pi, and Kevin Hamlin
Before it's here, it's on the Bloomberg Terminal.
LEARN MORE