An Uneasy Bi-State Truce Moves Manhattan Bus Station Ahead
By
NJ and NY governors commit billions to replace midtown eyesore

'Single worst place on planet Earth' serves 115,000 commuters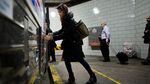 Port Authority of New York and New Jersey officials and governors of the two states for the first time have agreed on a plan to replace its rundown, overcrowded commuter bus terminal near Times Square, pledging a down payment of $3.5 billion, about one-third of the project's ultimate cost by its completion date, now planned for 2026.
The deal was reflected in the agency's proposed 2017 10-year, $30 billion capital plan reviewed at a board meeting Thursday after months of rancor between New York Governor Andrew Cuomo, who has balked at financing a facility he sees as mainly benefiting New Jersey, and Port Authority Chairman John Degnan, an appointee of New Jersey Governor Chris Christie. Even so, disputes among agency commissioners over other items have delayed ratification, pending a still unscheduled meeting in the next few weeks.
There's no disagreement about the need for a new bus terminal to serve an
increasing crush of commuters plus thousands more regional travelers trudging
through its grimy, cavernous halls each day. Built in 1950, it already exceeds
capacity, serving more than 115,000 commuters each making two trips a day. The Port Authority expects users to increase 45 percent within 23 years. 
"Asking New Yorkers to shoulder the burden of a $10 billion project many of them won't ever use is a bad deal and a non-starter," Cuomo spokesman Richard Azzopardi said. "The most it should be is $3.5 billion, but the amount paid by both states should be proportionate to ridership. This is a New York project and nobody is going to tell us how and why to build it."
Degnan, in an interview Wednesday, described that statement as "an appalling misunderstanding of the Port Authority's mission" as a bi-state commerce facilitator. He noted that about 20 percent of bus commuters live in New York state's Rockland and Orange Counties. New Jersey commuters working in New York earn about $9 billion a year, according to the Regional Plan Association, a policy research group. New York taxes their incomes and benefits from a supply of skilled labor in a city that for the past eight years has been among the fastest growing job-markets in the U.S. 
State Windfall
"I can't understand why the infrastructure governor of New York can't see this project as a windfall for his state," Degnan said. "It will be built with union labor. The New Jersey board members didn't consider it a 'New York project' when they voted to support the $9 billion rebuilding of the World Trade Center."
The authority board paid $4 billion for a trans-Hudson railway terminal in Lower Manhattan, Degnan noted. The facility, designed by architect Santiago Calatrava, featured soaring decorative spikes over a main hall dubbed the Oculus that's been compared to the carcass of a dinosaur, and serves about 50,000 commuters and shoppers daily.
The Port Authority expects to get $500 million of the $3.5 billion from the federal government. 
"The Port Authority committed only $3 billion in capital plan funding -- two-thirds from New Jersey, one-third from New York -- which is directly proportional to the ridership from each state," agency Executive Director Patrick Foye, a Cuomo appointee, said in an e-mailed statement after the meeting.
Several commissioners said they weren't ready to approve the Port Authority plan citing proposed rail links between Newark Liberty International Airport and Lower Manhattan's World Trade Center, and LaGuardia Airport in Queens to a subway connection 2.3 miles away in Willis Point, totaling about $3.2 billion. Others expressed frustration with the sheer size of the budget and its many projects and wanted more time to review it before sending it out for public review.
The agency's $31 billion capital spending over 10 years would include about $9 billion just to keep the agency's airports and seaports and its bridges and tunnels in a state of good repair, and more than $7 billion on construction of the bus station, as well as a new terminals at LaGuardia and John F. Kennedy International Airports. It would be subject to amendments as necessary in future years, Degnan said.
Powerful Relationship
"New York needs the educated, talented workforce of New Jersey, and these people make their money and they bring it back to their communities, and they pay property taxes and they hire people, and this is a powerful relationship for both sides of the river," said Thomas Wright, president of the Regional Plan Association, during a hearing of a New Jersey Senate Committee in May at which he advocated construction of a new bus terminal as soon as possible.
The current facility's inadequacy results in traffic spilling on to already congested midtown Manhattan streets, commuter delays, deteriorating air quality from bus exhaust, and the structural integrity of its ramps and floor slabs has been weakened by age and the advent of heavier, larger modern buses, so that it will be inoperable within 15 to 25 years, according to Port Authority engineers.
Then there's the depot's ambiance, which comedian John Oliver described in 2014 as "the single worst place on planet Earth," spread over two square blocks west of Times Square.
"I try not to use the men's room," said Richard DiGiacomo, 39, a construction worker from West Milford, New Jersey, who arrives at 5:30 a.m. six days a week. "The homeless use them as a bath house. Its dirty, dark, gloomy."
Before it's here, it's on the Bloomberg Terminal.
LEARN MORE