markets
A Fast Thousand Points on the Dow Just Isn't What It Used to Be
By
The century-old measure close to topping 20,000 for first time

It threatens 1999's record of 35 days to travel 1,000 points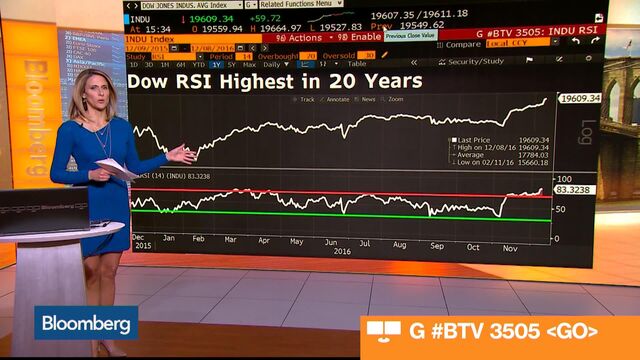 As it stands, the Donald Trump bull market has a shot at knocking off a dot com-era record pertaining to how fast the Dow Jones Industrial Average travels 1,000 points to a round-number milestone. But don't be fooled, the rally remains a pipsqueak compared with past bouts of euphoria.
Consider the daily pace of gains. The Dow has risen an average of 0.18 percent a session over the past two weeks, about two-thirds the rate between March and May in 1999, when it went from 10,000 to 11,000 in a little over a month, data compiled by Bloomberg and S&P Dow Jones Indices show.
It's not that the Trump rally isn't impressive -- at the moment it's the fastest for any new president since Ronald Reagan. It's just that going by history, it's nothing huge.
It took the index almost 5,200 days to go from 1,000 to 2,000 between 1972 and 1987.
Since the Dow passed it's first 1,000-point threshold of the bull market -- in May 2013 when it passed 15,000 -- the average time it's taken to the next 1,000 has been 324 days.
Dow crossed 10,000 for the first time in March 1999.
The hit 11,000 in May 1999, then advanced another 708 points before peaking in January 2000.
For more stories on Trump rally:
Trump Bull Market Bounty Tops $1 Trillion as Bear Case Mutes (1)
Trump Win Set Off $2 Trillion Shock Rotation to Stocks From Debt
Before it's here, it's on the Bloomberg Terminal.
LEARN MORE