Trump Introduces 'Mad Dog' Mattis, Pledges to Rebuild Military
By
President-elect calls for an 'America first' approach

Rally was part of Trump tour to thank voters for victory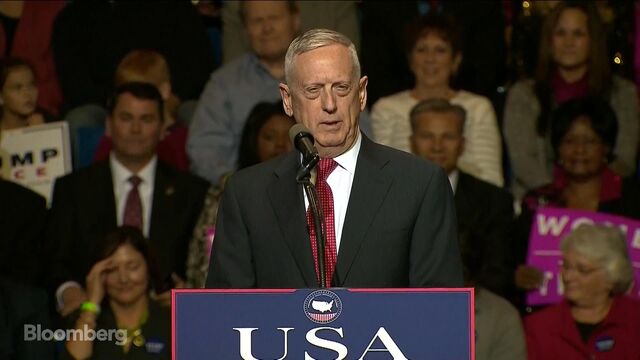 President-elect Donald Trump introduced his nominee for Defense Secretary, decorated Marine general James Mattis, calling him "a popular choice'' and "one of the most effective generals that we've had in many, many decades'' at a rally in Fayetteville, North Carolina.
Trump used the Tuesday rally, near the Fort Bragg military base, to pledge to rebuild the U.S. military, and renew the fight against terrorism. He also called for unity among Americans from all political parties.
"From now on, it's going to be America first,'' Trump said before introducing Mattis. "In short, we seek peace through strength.''
The rally was the second of its kind since Trump won the Nov. 8 election. On Dec. 1, he appeared in Cincinnati, the first of what he said would be 10 stops on a "Thank You Tour" to celebrate his win.
Trump took to the stage with Mattis, a blunt-talking former general who served as the head of Central Command responsible for U.S. forces in the Mideast and Afghanistan.
Fighting Terrorism
Using Mattis's nickname "Mad Dog,'' Trump said he would help lead the Pentagon as the "the first line of defense against radical Islamic terrorism -- words that some people don't like to say." Trump said U.S. troops would have all the equipment they needed and promised veterans would receive first-rate health care.
Mattis spoke briefly, saying he is "grateful for the opportunity to return to our troops, their families, the civilians at the Department of Defense because I know how committed they are and devoted they are to the defense of our country, the defense of our Constitution.''
Hours before Trump's rally, President Barack Obama said his counter-terrorism strategy was based on sound policy and constitutional practices and criticized the kind of bluster he has accused Trump of embracing. Obama's remarks at MacDill Air Force Base in Tampa offered a contrast to Trump, who has promised to upend much of his predecessor's foreign policy.
"Rather than offer false promises that we can eliminate terrorism by dropping more bombs, or deploying more and more troops, or fencing ourselves off from the rest of the world, we have to take a long view of the terrorist threat,'' Obama said. "We have to pursue a smart strategy that can be sustained.''
During his presidential campaign, Trump regularly criticized Obama as weak on terrorism, saying the president failed to single out Islamic terrorism. He falsely described Obama and his opponent, former Secretary of State Hillary Clinton, as "founders'' of the Islamic State extremist group.
Mattis led the North Atlantic Treaty Organization's transformation office and rewrote -- along with Army General David Petraeus -- the military's counterinsurgency field manual.
Republicans in Congress teed up legislation that would fast-track a waiver for Mattis to serve as secretary of defense. The law requires former military officers to have been retired for at least seven years to assume the post; Mattis retired in 2013.
Republican leaders Tuesday added language to a must-pass spending measure that would create a one-time-use mechanism to expedite a vote next year on a waiver for Mattis, which would require 60 votes to pass. The language, which would be part of a measure to fund the government after Dec. 9, appears aimed at avoiding procedural delays while still allowing Democrats a chance to debate -- and to block -- a waiver.
"He'll get that waiver,'' Trump said. "If he didn't get that waiver, there'd be a lot of angry people.''
Before it's here, it's on the Bloomberg Terminal.
LEARN MORE