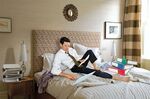 Zac Atkinson keeps a desk in the corner of the living room of his one-bedroom apartment in Studio City, Calif. Not that he uses it much: The work-from-home television writer migrates from couch to kitchen table and back again as he churns out scenes for animated children's programs. "The folks from the generation before me tend to have more of an office," says Atkinson, 32. "Most people I know end up sitting on the sofa, and half the time the TV is on when they're working."
Not long ago, someone telecommuting might have needed a desktop computer, a printer, a landline, and a fax machine (plus filing cabinets to store pay stubs, bank statements, and bills). Today more people than ever work from home, but laptops and Wi-Fi function just as well couchside—or, hey, by the pool—as deskside, and chances are you're neither sending nor receiving a ton of faxes. This helps explain why "the bigger, more ornate home offices that we once did have kind of gone away," says Tim Shigley, a home remodeler in Wichita. "People started saying, 'Do I need a home office? I have other things I want to buy.' "
The home office has lost enough cachet that, as of the end of August, the share of listings on real estate site Zillow that make special mention of one decreased by 20 percent from the previous year across the U.S., according to data compiled for Bloomberg Businessweek. Those rooms might still exist, but the numbers at least signal that real estate agents see them as less of a selling point than they once did.
This shift leaves the homebuilding industry contending with diverging trends. Sixty percent of employers let workers telecommute, up threefold from 1996, according to 2016's annual survey by the Society for Human Resource Management. But roaming the way Atkinson does has its appeal: If you're expected to answer an e-mail at any hour, why not burn the midnight oil in bed, Netflix on pause?
So builders are compromising. Current home design tends toward open-floor plans, with an emphasis on flexible spaces and workspace nooks, says architect Paul Adamson, who operates out of the San Francisco Bay Area. Modern homes are also built with more wall outlets to allow for nomadic charging, and some even come with built-in USB ports, says Jeremy Wacksman, Zillow's chief marketing officer.
This style is especially appealing to younger buyers, who are already accustomed to living off Starbucks Wi-Fi. A 2016 survey by John Burns Real Estate Consulting shows that while half of prospective buyers still say a home office is important or very important, younger ones care less about a dedicated workspace. In Southern California, for example, only a quarter of buyers born in the 1990s want a formal home office, says Pete Reeb, a principal at John Burns.
There's still one good reason to keep that wooden behemoth with the family photos: the tax benefits. Owners—and even renters—can write off insurance, utilities, and other home office expenses. In 2011 independent contractors and sole proprietors claimed about $11 billion in these deductions, including depreciation, according to a March 2015 blog post by Robert Dietz, chief economist at the National Association of Home Builders. (Salaried employees are less likely to take the deduction, even if they telecommute.)​
Suburban homeowners with preexisting home offices, meanwhile, are adapting their spaces to further merge work and home lives. "It seems like people I know are bringing in a big-screen TV and a comfy chair," Reeb says. "While the kids are playing video games in the living room, Dad is watching football in his office."
Before it's here, it's on the Bloomberg Terminal.
LEARN MORE