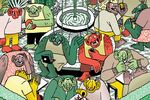 The discussion site Imzy promises to be—you ready?—"a community as welcoming / conscientious / creative / intellectual / opinionated / fanatical / diverse / curious / active / passionate / goofy /funny / tough / adventurous / interesting / obsessed / quirky / generous / playful / artistic as you are." The internet isn't often a place you'd call welcoming or conscientious these days, so a forum like this seems anachronistic at best; no one would question that it's naive, not even the founders, Dan McComas, 42, and his wife, Jessica Moreno, 43, who started it in October. They learned just how rough things can get online when they worked for Reddit, the eighth-most-visited site in the U.S.
Originally, all McComas, an independent web developer obsessed with Christmas, wanted to do was set up a secret Santa exchange for the news and discussion platform's users. In December 2009, he built a separate forum, Redditgifts, that lets people sign up for a randomly assigned gift sent through the mail. (Reddit was cool with it, though it didn't have ownership.) "It was an idea I didn't put more than five minutes of thought into, and then thousands of people were using it," McComas says. Just by word-of-mouth, Redditgifts attracted so many people that McComas was quickly overwhelmed with maintaining the code. He handed off customer service to Moreno, a soft-spoken artist who enjoys the medium of felt. Still, the unpaid hobby was taking so much time that, after Christmas 2010, McComas planned to shut down the service. Instead, Reddit bought it for an undisclosed sum and brought the couple officially on board. Redditgifts grew to have more than 200,000 participants by 2014, landing the Guinness record for world's largest gift exchange, and McComas became the jolly face of the forum. He even delivered a TEDx Talk titled "It's All About the Giving."

McComas went on to be named vice president for product for all of Reddit, and Moreno headed up the team handling community issues. But Reddit is a radical proponent of free speech—it's been criticized for fostering bullying and hate speech—so the issues she dealt with were more intense than, say, a secret Santa participant not receiving the perfect Star Wars figurine. The site hosted forums—"subreddits"—called "beatingwomen" and "jailbait." Most days, Moreno went home shellshocked, sometimes having spent the afternoon contacting the FBI about possible child porn in the jailbait thread. Eventually, she persuaded Ellen Pao, Reddit's chief executive officer at the time, to ban five communities, including beatingwomen and jailbait; the largest was "fatpeoplehate," which had 150,000 members bent on shaming the overweight. The haters weren't pleased. Moreno got death and bomb threats—their address was "doxxed," or maliciously published online, and they had to have a police watch put on their Bay Area home.
McComas, who argued with Pao about how best to engage Reddit users, says he was fired in July 2015; Moreno says she quit soon after. (The company won't comment on former employees. In a statement to Bloomberg Businessweek, it said, "Reddit is not immune to the challenges faced by other social media platforms around harassment and extreme content, and it's an issue we take seriously.") In the days and weeks that followed, McComas thought about his time at Reddit. "I feel like I did something bad for the world," he says more than a year later, turning down the 1940s Sirius station in his Audi as he drives in Salt Lake City, where the couple now live. "I didn't want to be part of a company with a group that teaches one another to 'groom' children for incest. It makes me sick that I even know that phrase."
So Moreno and McComas decided to start a community that would be nice—no harassment, racism, misogyny, porn, or fat shaming. "You're never standing on a corner, and someone walks by and says, 'You're a fat pig!' " McComas says. "That's what happens on the internet. That's what I want to change." In August he and Moreno gathered four former Reddit employees and a person who worked for Twitter to begin hatching the site.
They decided that if they wanted a kind site, it would help to work in a kind place—thus the move to Salt Lake City. McComas left the Mormon church when he was 17, but his practicing parents had retired there. "That's where my love of community comes from," he says. "It came from Mormonism, and then from punk, and transferred online." (McComas was the drummer for the Criminals, a band whose most popular song was The Angry Ouija Board Has Sent Us to Destroy the City of Berkeley California So Run for Your F---ing Life, off the 1998 album Burning Flesh and Broken Fingers.)
Imzy—the name means nothing; it was an available URL without copyright issues—made its debut on Oct. 26 and has attracted more than 50,000 members, many of them Redditors whom McComas courted. Imzy users have founded communities similar to what you'd find on Reddit, plus a bunch you might not, such as "daily positivity," which asks, "What did you do that made you say, 'Wow, today was awesome'?" The company has attracted $11 million in seed money, which McComas and Moreno say will last three years. Most of the capital comes from Index Ventures, where partner Danny Rimer, a Reddit fan, noticed the uptick in far-right invective on the site during Donald Trump's presidential candidacy. "If you moderate the platform, you could build something large," Rimer says. Instead of relying on ads as Reddit does, McComas wants to take a cut of user-generated commerce. The plan is for communities to offer subscriptions for extra content, throw paid events, and sell merchandise.
For now, Imzy is just trying to add users. Its 18-person team works at an office on the second floor of an old, exposed-brick building on Main Street. They code on laptops, sitting on couches, in recliners, and on a beanbag arranged around a 55-inch television screen showing a crackling yule log. Christmas music plays, and a stack of stockings with each employee's name sits on a chair. McComas wears a Christmas hat. It's Nov. 3.
The staff is intentionally diverse to help sensitize Imzy to users' needs. Much of what employees work on is how to get people not to be jerks. To fight trolls, Imzy has created numerous barriers to joining a community. On Reddit, new users are assigned communities to explore. Most Reddit meanness isn't leveled by members of a subreddit, but by visitors. That meanness shows up as "brigading" (groups from one community maliciously swarming another) and "s---posting" (purposefully off-topic comments), behavior Imzy's approach seeks to prevent.
The site also doesn't allow for the kind of gamification that's built into Reddit, where users compete for "upvotes" to get to the top of a page or "downvotes" to prove their trollishness. Imzy just lists posts chronologically. And it bans bad actors. "You can have your feelings hurt on Imzy. You can have disagreements," says Kaela Worthen Gardner, Imzy's head of product. "You can't have someone stalking you. You can't get death threats and rape threats and see racial slurs. You can't be a jerk."
Subreddit moderators have limited power, but Imzy gives community leaders real authority. They can disallow anonymity, establish rules of decorum, and ban members who violate them. (So far, no trolls have attacked the 10 members of my community, "The Awesome Column by Joel Stein." All of them abide by my one dictate: "Stop making fun of me.") Imzy has attracted celebrity community leaders such as Lena Dunham, whose 700 members discuss her feminist publication, Lenny Letter, though she rarely engages with them.
McComas says about 60 percent of the moderators of the 200 most popular subreddits have joined Imzy. One of them goes by Zork. He doesn't want to give his real name—he fears that Reddit users will track him down, because, after starting a Reddit group about celebrities eating sandwiches (and paying to have it advertised on the site), he got hate messages from people annoyed about seeing the ads. Zork created an Imzy community about debunking falsehoods, mostly political ones. It's got 3,000 members and no trolls. Imzy "put this huge target on themselves," Zork says. "I thought for sure the trolls were going to try to take it down. I haven't seen that. People have been a lot nicer on Imzy."
Recently, the fatpeoplehate haters tried to start an Imzy community. Moreno, who usually responds to hate-riddled e-mails with a cute cat GIF, banned them immediately. But "they were pretty chill. They said, 'OK. Thanks,' " she says. "They didn't know I was the one who banned them" from Reddit. Bad people, she and McComas have found, can act decently when there's an expectation that they should. The couple already knew the opposite was true, too.


Voat: Reddit for Even Meaner People
The "fatpeoplehate" group that Moreno banned from Reddit migrated to Voat, which was started by Atif Colo and Justin Chastain, software engineers in their early 30s who believe that people should be able to say or see anything, as long as it's legal under U.S. law. They answered questions by e-mail. Edited excerpts: 
 
What challenges have you encountered?
Voat has been under constant DDoS [distributed denial of service] attacks almost since Day One. At one point, our servers were shut down by our ISP without notice. We even received death threats.
 
Imzy is trying to create a Reddit with heavily moderated communities in which hateful speech is banned.
That model will certainly work for people who actively choose to filter reality. Free speech can be good and bad. While we don't approve or condone hateful speech, we also firmly stand against meddling in human nature.
 
Has the fatpeoplehate group been hard to deal with?
This group posted an image of us and called us fat. Instead of removing the image and banning the entire group, we decided to change our lives. Atif has been training at a gym twice a day for almost a year, and he changed his bad diet in favor of healthier alternatives. Justin has begun a juicing addiction.
 
How is Voat doing in general?
Voat is doing better than ever. We're in a position to pursue funding and will be taking steps in this direction soon.
Before it's here, it's on the Bloomberg Terminal.
LEARN MORE