China's Foreign Reserves Drop Most in 10 Months as Yuan Slumps
Bloomberg News
Reserves decreased $69.1 billion to $3.05 trillion in November

Authorities have already begun tightening capital controls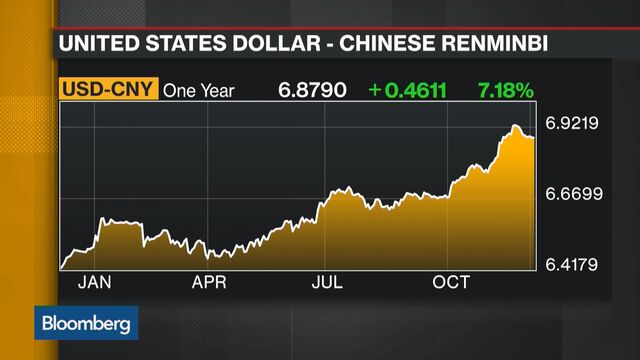 China's foreign currency reserves, the world's largest, fell the most since January after the yuan declined to an eight-year low.
Key Points
Reserves decreased $69.1 billion to $3.05 trillion in November, the People's Bank of China said in a statement Wednesday 
That compares with the median forecast of $3.06 trillion in a Bloomberg survey of economists
Decline was biggest since reserves tumbled $99.5 billion in January
Big Picture
The fifth-straight monthly decline brings the reduction in the stockpile to almost $1 trillion from a record $4 trillion in June 2014. While authorities have begun tightening capital controls, a $50,000 limit that Chinese citizens are allowed to convert from yuan annually will reset at the start of the new year, potentially adding depreciation pressure on the currency.

Economist Takeaways
"Containing capital outflows is the key to keeping China's systematic risk in check," Harrison Hu, chief greater China economist at Royal Bank of Scotland Group Plc in Singapore, wrote in a note after the data. "Market turmoil one year earlier showed the strong feedback loop between capital flight and currency depreciation can destabilize China's financial system and lead to escalating systemic risk."
"A combination of yuan weakness and a peak in the mainland property sector is conspiring to increase capital outflows," Bloomberg Intelligence economists Tom Orlik and Fielding Chen wrote in a report. "Another month of falling reserves does little to inspire confidence, especially as households await the renewal of their FX quota at the start of 2017. Even so, with the yuan steady so far in December and capital controls in place, there's reason to hope China's reserve buffer will end the year on a more stable note."
"The announcement of additional capital controls will smooth the fall in reserves for some time but won't solve the problem," said Alicia Garcia Herrero, chief Asia-Pacific economist at Natixis SA in Hong Kong. "China isn't out of the woods."
"I smell more capital controls, which run against any hopes of reform or internationalization of the yuan or a sharp drop in the yuan," said Michael Every, head of financial markets research at Rabobank NA in Hong Kong. "And all these fun and games come before we have even seen President Trump."
The Details
The drop in reserves was due mainly to the PBOC injecting foreign-exchange funds into the market, non-dollar currencies falling against the U.S. dollar after the election, and falling bond prices, according to a statement from the State Administration of Foreign Exchange, which executes currency policy.
Reserves in terms of International Monetary Fund Special Drawing Rights edged down to 2.254 trillion units last month from 2.271 trillion in October.
The yuan fell 1.55 percent last month, the most since a devaluation in August 2015
— With assistance by Xiaoqing Pi, and Kevin Hamlin
Before it's here, it's on the Bloomberg Terminal.
LEARN MORE