business
Brexit Migration Cuts Will Hurt U.K. Economic Growth, Niesr Says
By
Curbs could shave 3.4 percent off GDP per capita by 2030

Net EU migration could fall by 100,000 if free movement ends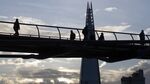 Immigration restrictions after Brexit may harm productivity and shave more than 5 percent off projected U.K. economic output by 2030, the National Institute of Economic and Social Research said.
Curbing free movement to Britain of European Union nationals could result in 91,000 fewer migrants a year, about a third of the current total, Niesr said Wednesday in a report, citing its central scenario. That could hit projected gross domestic product by 5.2 percent in 2030, while cutting GDP per capita by 3.4 percent -- a similar decline to that in trade and investment. The drop in migration would boost incomes of low-paid workers by 1 percent, according to the study.
The findings represent a warning to Prime Minister Theresa May, who says she'll prioritize immigration controls in exit talks with the EU that she aims to start by the end of March. While the U.K. economy has fared better than forecast in the wake of the June 23 vote for Brexit, the Office for Budget Responsibility, which advises the Treasury, last month predicted that lower migration as a result of Brexit could add 16 billion pounds to U.K. borrowing by 2021.
Prior to the referendum, no studies "incorporated the impacts of Brexit-induced reductions in migration," said Jonathan Portes, a fellow at Niesr and co-author of the paper. "Our estimates suggest that the negative impacts on per capita GDP will be significant, potentially approaching those resulting from reduced trade."
Immigration Target
The government has said that it wants to bring the numbers of foreigners coming to the U.K. to the "tens of thousands" from around 330,000 currently, but that high skilled workers, for London's financial sector for example, would unlikely be affected by any rule changes. On Tuesday, Home Secretary Amber Rudd told lawmakers that any new rules would need to account also for some unskilled workers.
"We are aware how necessary it will be to ensure that we have some sort of seasonal scheme in place" for agricultural laborers, she said.
The report found that free movement was the main determinant of migrants coming to the U.K., with the state of the economy also being a significant factor. Under a more extreme scenario, net immigration would fall by as much as 150,000 EU nationals, shaving as much as 8.2 percent off GDP in 2030, and 5.4 percent off GDP per capita.
Before it's here, it's on the Bloomberg Terminal.
LEARN MORE