Boeing Sweats Under Trump Spotlight as SoftBank Feels Warmth
By
Stocks move as president-elect singles out companies in tweets

U.S. planemaker reproached for Air Force One replacement costs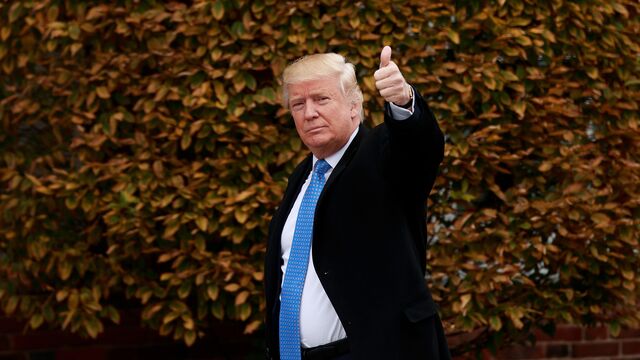 First came Ford and Carrier. Now Boeing and SoftBank are experiencing the power of Donald Trump's Twitter feed.
The president-elect jumped into corporate affairs again Tuesday, tweeting first to criticize one company and then to hail another. He began at 8:52 a.m. New York time by calling out Boeing Co. over costs to develop new Air Force One jets. Just over five hours later he celebrated a $50 billion investment in the U.S. by Japanese telecommunications firm SoftBank Group Corp.
The tweets, coming after Trump last week announced a deal with United Technologies Corp. to cancel plans to close a U.S. factory, dominated news and moved markets even as details in both cases remained sketchy and the impacts unclear. Trump again showed a willingness to use his bully pulpit to criticize or congratulate companies over actions affecting American workers and government spending.
"This is extraordinary," said Mohan Tatikonda, a professor at Indiana University's Kelley School of Business. "For a president to get involved at the level of spot locations, spot companies, spot plants, is I think unprecedented."
Stock Moves
The president-elect's moves had consequences for the market, with Boeing falling as much as 1.5 percent before regular trading Tuesday. The shares were little changed Wednesday in New York. SoftBank climbed 6.2 percent in Tokyo.
Sprint Corp., which is controlled by SoftBank and is the No. 4 U.S. wireless carrier, rose 6.6 percent to $8.71 at 12:06 p.m. Wednesday in New York. T-Mobile US Inc., which has long been mentioned as a possible merger partner for Sprint, jumped 2.8 percent to $57.57 on speculation that SoftBank Chief Masayoshi Son's pledges could aid an eventual deal.
The market reacted again early Wednesday after Trump said he will bring down drug prices, sparking a drop in biotechnology stocks. That comment came from a Time Magazine interview, however, not Twitter.
A president who's too eager to pick winners and losers may prompt business owners to seek special treatment in Washington instead of focusing on improving operations, said Anne Krueger, an economics professor at Johns Hopkins University's School of Advanced International Studies.
"The rule of law is what prevents crony capitalism, and the minute you have the president-elect, politicians or bureaucrats meeting with business owners to dispense special favors it unlevels the playing field," said Krueger, a former first deputy director of the International Monetary Fund. "We all ought to be screaming now because if we don't, we're going to be a third-world country before we know it."
'Cancel Order!'

Trump's tweet about Air Force One -- "Cancel order!" he said -- came days after Boeing Chief Executive Officer Dennis Muilenburg called on him and Congress to ensure that U.S. companies have the tools to compete in a global economy. Trump said costs for the presidential aircraft program could exceed $4 billion.
Boeing, the largest U.S. exporter, currently is working under a $170 million contract "to help determine the capabilities of this complex military aircraft," spokesman Todd Blecher said in an e-mail.
Trump said Wednesday he spoke to Boeing and would work to reduce the program's costs. "If we don't get the prices down, we're not going to order them. We're going to stick with what we have," he said in a phone interview with NBC.
Boeing acknowledged that Muilenburg had a phone conversation with Trump about the Air Force One price tag. The company said in a statement it is "committed to working with the new administration to control costs." Bloomberg News reported earlier that Boeing told officials on Trump's transition team that costs could be lowered if the government agrees to reduce technical requirements.
Special Capabilities
The Pentagon already is budgeting $3.2 billion for research and development, military construction and acquisition of two of the Air Force One planes through fiscal 2021, said Kevin Brancato, the lead government contracts analyst for Bloomberg Government. Boeing 747-8 planes average about $225 million each, he said, which means most of the expenses will go to outfitting the planes with special capabilities for presidential use. They include advanced communications and classified defensive abilities that make them flying fortresses.
Trump's willingness to attack the program -- one of the most visible symbols of the American presidency -- and go after specific companies generates uncertainty over the scrutiny government contractors may face under the new administration, according to Cowen & Co. analyst Cai Von Rumohr. While it's not unusual for incoming presidents to cancel some programs, Trump's style is a "yellow flag" for many companies, he said.
"Even if Trump only launches a bombastic Twitter shout-out, this more aggressive approach to contractor relations could impact the stocks," Von Rumohr said Wednesday in a note.
Intervention of this magnitude has little precedent, but past president such as Lyndon Johnson and John F. Kennedy were known for such practices. Johnson, for instance, fought inflation and targeted high prices on products as varied as eggs, steel and televisions.
Johnson's impact was limited. But he didn't have Twitter.
"Mr. Trump's leadership style and communication style is abetted by the social media capabilities we have today," Tatikonda said. "With Mr. Trump we will continue to see different kinds of executive models and ways of leadership than we've ever seen before."
Softbank Investment
Following a series of meetings Tuesday with business leaders, the president-elect tweeted that SoftBank will invest in the U.S. and create 50,000 new jobs. Son, CEO of the Tokyo-based telecommunications company, told reporters the funding would go to "new companies, startup companies in the United States." The money will come from SoftBank's previously announced $100 billion technology fund, Bloomberg News reported.
Trump followed up the tweet with a second saying the company "would never do this had we (Trump) not won the election!" On Sunday, Vice President-elect Mike Pence said on ABC's "This Week" that Trump would decide whether to intervene with specific companies "on a day-by-day basis."
While Trump has turned Twitter into a powerful tool, the companies in his sights may not do the same.
"I know the right answer is not going to be tweet back, so don't expect us to be doing that," David Melcher, president and CEO of the Aerospace Industries Association trade group, said after Trump's Boeing statement. "The president-elect is going to have to decide how he wants to use that tool going forward."