deals
A Treasuries Maverick Rises From the Dead With Help From Merger
By
Direct Match hoped to shake up bonds with new trading platform

Now merging with OpenBondX, which brings link to vital service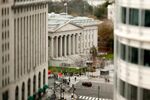 Direct Match Holdings Inc.'s effort to disrupt U.S. Treasuries trading is back from the dead, thanks to a merger that gives the company access to a key clearinghouse.
The company is combining with OpenBondX LLC, another bond-trading startup, and they'll share a link into Depository Trust & Clearing Corp.'s clearinghouse through Wedbush Securities Inc., said Direct Match co-founder Jim Greco. Treasury trading systems can't operate without a connection to that industry utility. What doomed Direct Match in August was the loss of its clearing agreement with State Street Corp.
OpenBondX Direct Match, which aims to open in the first quarter, plans to offer hedge funds and asset managers the same type of anonymous, exchange-style Treasuries trading that banks and sophisticated electronic firms have enjoyed for years. Direct Match's struggle to open -- it went dormant before processing a single trade -- highlights the grip banks hold on the market because they can block potential competitors by restricting access to the DTCC's clearing system.
"The biggest lesson was we designed Direct Match to meet the needs of the trader, we didn't build the company to take on the back office," Greco said in an interview. "We didn't put in enough effort to secure the clearing partner we should have."
$500 Billion Business
About $500 billion of Treasuries trade each day, according to the Securities Industry and Financial Markets Association. Just under half of that takes place one-on-one between dealers and their clients, according to a report last year by the Federal Reserve Bank of New York. This segment is dominated by five banks that control 60 percent of volume, up from 44 percent a decade ago, according to consulting firm Greenwich Associates, which didn't name the firms.
It's an opaque market, where the size and price of trades are known only to participants in the transaction, making it hard for investors to know whether they're getting a good deal.
Trading can be done over the phone or through electronic auctions hosted by Bloomberg LP, the parent of this news organization, and Tradeweb Markets LLC. The rest takes place on electronic markets like ICAP Plc's BrokerTec, Nasdaq Inc.'s ESpeed and Thomson Reuters Corp.'s Tradeweb. Here, the size and price of trades are known to all users of the system, which are mostly Wall Street dealers and automated trading firms such as Jump Trading LLC.
All-to-All Market
OpenBondX Direct Match, on the other hand, will be an all-to-all venue, where theoretically anyone can trade. Its chief executive officer will be Alistair Brown, who was CEO of OpenBondX. He co-founded quantitative hedge fund Tower Research Capital in the 1990s and helped create Tower's high-frequency trading firm Lime Brokerage, which Wedbush later bought.
Greco will be head of rates and chief technology officer at the combined company. William O'Brien, the former CEO of stock exchange Direct Edge and Direct Match's executive chairman, will continue in that position at OpenBondX Direct Match.
Technology is driving the Treasury market to become more transparent, Brown said in an interview. "People do want better, more technologically-advanced solutions to trading," he said. Still, he acknowledged the company faces stiff competition to break into the market. "It's a bit of a slow push" as they try to change the way investors have done things for many decades, he said.
Bank Gatekeepers
Further complicating the path for new entrants into the Treasury market, banks that allow access to the DTCC clearinghouse must also be willing to put up margin for clients that aren't DTCC members, Greco said. Membership at DTCC's Fixed Income Clearing Corp., or FICC, is expensive for smaller firms such as proprietary traders, and those costs would cut into the thin profit margin available in the market. That's why firms like Jump Trading and DRW Holdings LLC strike deals for banks to sponsor their DTCC access.
That margin equals 1.5 percent of the notional amount of a trade made by a non-member of the DTCC, Greco said. "We needed someone who was willing to put up the capital when there was an imbalance between FICC and non-FICC members trading on the platform," Greco said. "You need to lean on a much larger balance sheet. Until Treasury mandates central clearing, this is going to continue to be a big issue."
Other issues remain to be fixed in the Treasury market, Greco said. The lack of public reporting of prices in a central database means one of the world's most important markets is largely opaque. Earlier this year regulators including the Securities and Exchange Commission approved a plan to require dealers to report prices at the end of each day. But data would only be available to government regulators.
"It's absurd," Greco said. "One of the most liquid markets in the world and there's no market data for it. It's in our national interest to fix this."
Before it's here, it's on the Bloomberg Terminal.
LEARN MORE