Utilities Win German Court Case on Atomic Exit in Blow to Merkel
By and
Constitutional court says utilities entitled to compensation

Government instructed to amend legislation by mid-2018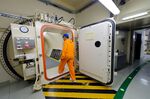 RWE AG, EON SE and Vattenfall AB are entitled to compensation for power-production rights they lost through the German government's decision to exit from nuclear energy, striking a blow to Chancellor Angela Merkel as she prepares her re-election bid.
Judges at the Federal Constitutional Court in Karlsruhe said in a landmark ruling Tuesday that a 2011 law on the nation's shift away from atomic energy failed to tackle compensation for companies that were committed to nuclear-power production. RWE and EON surged.
Their cases center on Merkel's flipflop on nuclear power following Japan's Fukushima disaster in 2011. Merkel had just months earlier extended the life of the country's nuclear plants before unexpectedly reversing course after the incident, deciding instead to accelerate the shutdown of Germany's atomic power plants. The three energy producers on Tuesday said they couldn't exactly quantify the magnitude of their damage awards.
"Merkel's coalition in 2011 acted impulsively and treated the utilities ruthlessly in backtracking on earlier legal arrangements," said Christian Kirchberg, a constitutional law professor at the Karlsruhe Institute for Technology. "It was clearly under shock after Fukushima, yet it simply didn't do its homework properly. The companies were bound to try to rescue something from their investment and they will get it."
Shares Surge
RWE shares jumped as much as 6.3 percent to 12.48 euros and traded 0.1 percent higher as of 3:37 p.m. in Frankfurt. EON surged as much as 6.9 percent and was up 2.8 percent to 6.31 euros.
Presiding Judge Ferdinand Kirchhof said the 2011 law "lacks rules on compensation." Still, the court rejected the plaintiffs' claim that the government's 2011 decision amounted to expropriation of the utilities' property -- potentially limiting the amount of any claims.
The constitutional court didn't determine damages, instead instructing the government to amend the legislation by mid-2018 with the compensation. The award may be worth about 700 million euros ($751 million) for EON and as much as 400 million euros for RWE, Goldman Sachs estimated.
Environment Minister Barbara Hendricks said that by upholding the constitutionality of the 2011 exit decision as a whole, and rejecting the plaintiffs' expropriation claim, the ruling means "the billion-euro demands of the companies are off the table."
Nuclear Exit


The country's nuclear exit stems from 2002, when the ruling Social Democrats and Greens decided to end atomic energy production and reached a deal allowing the companies to produce an amount of power equivalent to 32 years of generation by existing plants.
In Merkel's second term in 2010, her Christian Democratic Union-led government decided to give the utilities additional production rights. Then, in early 2011, Merkel repealed the extension and set closing dates for each plant, forcing some of the oldest reactors to close within months of the Fukushima disaster.
Merkel's reversal came after her party lost control of the heartland state of Baden-Wuerttemberg to the anti-nuclear Greens party in a regional election the same month as the Fukushima disaster, and as tens of thousands of protesters took to the streets across Germany to demonstrate against nuclear power.
At the time her party's "Wirtschaftsrat," or business council, denounced her "go-it-alone" nuclear policy, saying it could add billions of euros to power bills paid by industry and consumers. Yet the decision marked a turning point in her popularity after it had reached the low point of her chancellorship six months previously as the euro crisis spread from Greece. By late 2012, she was re-elected chairwoman of her party by a record 97 percent of members.

The timing of Tuesday's ruling was especially unfortunate for Merkel, coming less than two hours before she spoke at her party's convention to kick off her re-election campaign.
Merkel's decision to phase out nuclear power "was not a mistake," Deputy Finance Minister Jens Spahn said in a Bloomberg Television interview at the CDU congress. "That is what the population wanted -- to enter into renewable energy here in Germany. Now we are one of the world-leading countries in this area."
Exceptionally, the court also decided in favor of Swedish-owned Vattenfall, even though under German law, constitutional rights protect the public against government action and state entities can't invoke them. Energie Baden-Wuerttemberg AG, the fourth German nuclear operator, didn't join as a party for that reason, as it is mostly government-owned.
The utilities and the government in October reached an agreement on how to fund nuclear waste storage costs that still needs parliamentary approval. In theory, they could consider integrating the top court ruling's result as part of that deal.
"No one knows what the upside is for them," said Elchin Mammadov, an analyst in London at Bloomberg Intelligence. "It's a pie in the sky. What is more likely to happen is that they will use it as a bargaining chip with the government. They may get some lenient decision in the commissioning of nuclear storage, in return they would drop the compensation claims."
The cases are: BVerfG, 1 BvR 2821/11, 1 BvR 321/12, 1 BvR 1456/12.
Before it's here, it's on the Bloomberg Terminal.
LEARN MORE