Lego CEO Says Trump 'Speculation' Can't Shape Global Ambitions
By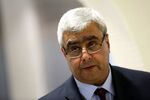 After growing more than five-fold over the past decade, Lego A/S isn't letting President-elect Donald Trump's rhetoric on trade barriers and protectionism shape its plans for continued expansion in the U.S. and beyond.
Bali Padda, who will take over as chief executive officer at the Danish toymaker at the end of the year, says there's still more "speculation" than clarity on how Trump's presidency will alter the global business landscape, and that's not enough to base any decisions on.
Lego, which serves the North American market with building blocks made in Mexico, still sees room to grow in the U.S., Padda said.
"We're fairly well-established in Europe and to some degree in the U.S. but we still believe there's potential there," the 60-year-old said. "At the moment we have to continue to deliver on the potential there is there with the various demographics" in the U.S.
Reading Trump
"Let's see, when he comes in, what happens and what actions we have to take," Padda said by phone on Tuesday. "We will just focus on getting this great product into the hands of as many children as possible and then we will see what happens in the geopolitical world around us."
Controlled by the Danish billionaire Kirk Kristiansen family, Lego said last year it will expand its Monterrey facility in Mexico -- the company's only production unit in the Americas -- by adding 3,000 jobs there. While Padda won't rule out building U.S. facilities in the long term, the company doesn't have such plans currently, he said.
Read more: How Trump's business logic hits a wall in Mexico
"Our strategy is to be close to the consumer and the children and, depending on how our markets grow, we will build accordingly," he said.
Trump has threatened to punish companies that move production jobs out of the U.S. and has promised to withdraw from international trade agreements and instead impose tariffs. Last year, Lego achieved "double-digit" growth in percentage terms in the U.S., which is its biggest market, according to the company's 2015 annual report.
Read more: Trump tweet slams Boeing for cost of Air Force One
Lego said on Tuesday that Jorgen Vig Knudstorp, who as CEO over the past decade has transformed what was a loss-making company into the world's most profitable toymaker, will become chairman.
The future CEO said one of his main focus areas will be to "increase adaptability and agility" as Lego needs to be able to respond to geopolitical developments "and the digitization that's happening around us."
Before it's here, it's on the Bloomberg Terminal.
LEARN MORE