Venezuela to Issue Bigger Bills This Month as Currency Plunges
By
Larger banknotes to begin circulating in economy Dec. 15

Government will announce new currency measures next week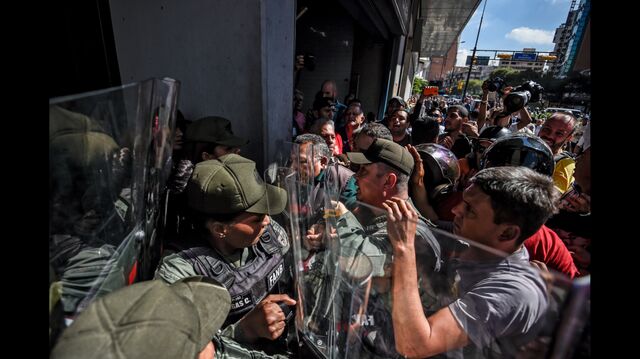 With the value of Venezuela's largest banknotes reduced to a few U.S. cents by triple-digit inflation and the currency's collapse on the black market, the country's central bank said it will begin circulating higher-denomination notes this month.
New denominations including bills of 500, 1,000, 2,000, 5,000, 10,000 and 20,000 bolivars will start appearing at banks from Dec. 15, according to a Central Bank statement, adding that coins of 10, 50, and 100 bolivars would also be released. Bloomberg News first reported the plans for larger bills on November 30.
The reluctance of authorities to issue bills larger than 100 bolivars over the past several years as the currency declined in value had forced Venezuelans to ditch wallets in favor of bags of cash for everyday transactions. Some shopkeepers have started to weigh wads of notes instead of counting them to save time. Venezuela's government, meanwhile, is planning to announce new currency measures after the bolivar lost almost two-thirds of its value in black-market trading last month.
To read more about the new currency notes, click here.
"There's an action being planned that is going to have a very important impact," foreign trade and investment minister Jesus Faria said Sunday in an interview on the Televen television network, without proving additional details. "In the middle of this turbulence, there have to be continuous revisions, and that's what we're adopting, adjusting to the new challenges and conditions. The changes will be adopted Tuesday, he said.
Venezuela's economy should start to stabilize next year and grow 1.5 to 2 percent, Faria said, adding that the government is working on policies to stabilize prices, inflation and speculation. The recent decision by oil cartel OPEC to cut production should provide Venezuela with additional revenue of $8 billion or $9 billion next year and help improve the availability of products, he said.
President Nicolas Maduro, in a Saturday address, said he was studying measures to combat an "attack against the currency." State media reported that some stores in downtown Caracas had been ordered to reduce prices.
"In this country, no one can set prices based on DolarToday. I'm not going to permit it," Maduro said, referring to the website that tracks the black-market exchange rate. "Looking for resources, you don't know all that we're doing. In December, I'm going to take a trip, up to two trips, to finalize the resources the country needs for 2017 and 2018."
Before it's here, it's on the Bloomberg Terminal.
LEARN MORE