Trump Takes 'Thank-You Tour' to Wealthy Donor's Costume Ball
By and
President-elect pays respects to billionaire Robert Mercer

Trump comes as himself at 'Villains and Heroes' gathering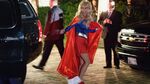 President-elect Donald Trump took a break from the blue-collar Midwestern rallies of his "thank-you tour" of the U.S. to pay his respects to a different demographic: the family of a wealthy donor who spent millions supporting his campaign.
Trump on Saturday attended a lavish costume party on the North Shore of Long Island hosted by hedge-fund manager Robert Mercer, the co-chief executive officer of Renaissance Technologies. In August, Mercer's daughter and political adviser, Rebekah Mercer, helped install her aides at the top of the Trump campaign, and her influence within has grown since then. Politico recently dubbed her "the most powerful woman in GOP politics."

The occasion was an annual costume party thrown by the Mercer family that's become legendary in political circles. Trump's presence promises to cement the family's role at the center of a new, anti-establishment brand of conservatism taking power in Washington. This year's theme was "Villains and Heroes." Many of the guests were intellectuals, activists and politicians in the Mercers' orbit, and their costumes ran the gamut from Tonya Harding, the disgraced figure skater, to Cruella de Vil. At least three women dressed as Ruth Bader Ginsburg, the liberal Supreme Court justice.
Trump, 70, strode into the party wearing a dark suit and a blue and white tie. Asked what his costume was, he pointed at himself and mouthed "me." Nearby was a faux-marble entryway with the Latin phrase "bono malum superate" -- overcome evil with good.
Hulk Hogan
Trump spent nearly two hours at the event, and addressed the crowd for about 20 minutes in remarks that reporters traveling with the president-elect weren't allowed to hear. According to guests who spoke on condition of anonymity, he spent much of his time thanking individuals who helped him win, including the Mercers and the political operatives they provided him.
Peter Thiel, the billionaire libertarian tech entrepreneur and founder of Clarium Capital, sported one of the evening's most talked-about costumes. He dressed as the professional wrestler Hulk Hogan, whose real name is Terry Gene Bollea, according to two guests who saw him there. Earlier this year, Thiel, who nursed a grudge against Gawker Media, secretly financed Bollea's successful invasion-of-privacy lawsuit against the company, and forced it into bankruptcy. A spokesman for Thiel declined to comment.
Farage as Nelson
Nigel Farage, the former leader of the pro-Brexit UK Independence Party, came as the naval hero Admiral Lord Nelson. "Nelson did it with cannons, and we did it with votes, all right?" Farage, in a blue bicorne hat, told a reporter at a hotel near the party. He declined to comment further.
Spotted boarding a hotel shuttle to the party was Scott Garrett, a New Jersey congressman who lost his seat after reports that he wouldn't support a Republican Party committee because it backed gay candidates. Garrett and his wife, Mary Ellen, were dressed as gangsters from the 1930s.
Joseph Bast, president of the Heartland Institute, an Illinois-based think tank that questions the scientific consensus on climate change, wore prisoner's stripes with the word "DENIER" on his back. His wife, Diane, dressed as a British bobby -- a member of the thought police, he said.
Brent Bozell, a longtime conservative activist whose Media Research Center has raised millions of dollars from the Mercers, came as Lionheart, the crusading British monarch, in a blood-red tunic. "My wife is Joan of Arc -- she's about to go up in flames!" Bozell said as he waited for the shuttle to depart. Earlier, Bozell hugged Alexander Nix, the CEO of Cambridge Analytica, a political-data firm in which the Mercers are investors.
Ghostbuster, Rochambeau
Guests were encouraged to keep details of the party private, and most wouldn't discuss the gathering or their ties to the Mercers. Not all were political types. Steven Hatfill, the biodefense researcher who was wrongly suspected in the 2001 anthrax attacks, was dressed as a Ghostbuster.
Lawrence Mone, the head of the Manhattan Institute for Policy Research, was Obi-Wan Kenobi; Roger Kimball, of New Criterion magazine, dressed as the Comte de Rochambeau; William Mumma, president of the Becket Fund for Religious Liberty and a former executive at Mitsubishi Securities, wore a nondescript suit and carried a battle-axe. All of their groups have received the Mercers' money.
Trump's aides had said earlier in the week that he didn't plan to attend, and some guests heard of Trump's plans only minutes before he arrived. "Honoring the ultimate hero at the Mercer 'Heroes and Villains' party on Long Island," said campaign manager, Kellyanne Conway, in a tweet. "Crowd thrilled w/ surprise!" She was dressed as Superwoman.
— With assistance by David Scheer
Before it's here, it's on the Bloomberg Terminal.
LEARN MORE