Trump Expands Secretary of State Search as Petraeus Defends Past
By and
Former general says he paid "very heavy price" for misdeeds

Fresh names emerge, including Huntsman, for top U.S. diplomat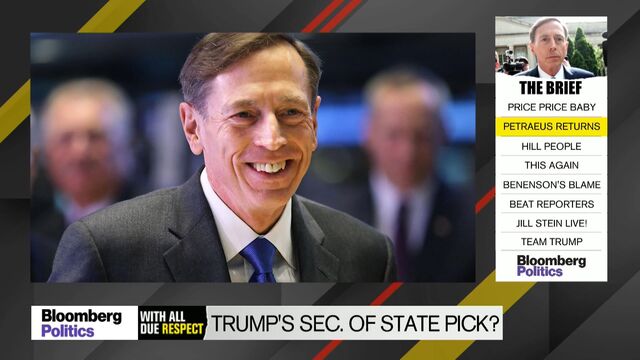 President-elect Donald Trump is widening his search for a secretary of state even as one of the contenders, former General David Petraeus, defended his qualifications for the role.
Petraeus, who resigned from the helm of the Central Intelligence Agency for mishandling classified information, has been considered for the job, despite Trump's lambasting of Democratic presidential candidate Hillary Clinton for her handling of classified material on a private e-mail server.
"Five years ago, I made a serious mistake," Petraeus said in a Sunday interview on ABC's "This Week With George Stephanopoulos," adding that he's already paid a "very heavy price" for his missteps. "Folks will have to factor that in and determine whether that is indeed disqualifying or not."
Despite Petraeus' comments, vice president-elect Mike Pence and senior Trump adviser Kellyanne Conway on Sunday both said the president-elect was expanding the list of candidates for the job. There's been speculation that Trump may be souring on two of the previous frontrunners, one-time critic Mitt Romney and former New York mayor Rudy Giuliani. Neither Pence nor Conway mentioned the names of any new hopefuls.
New Names Emerge
Media reports over the weekend suggested Jon Huntsman, the former Republican governor of Utah and U.S. ambassador to China in the Obama administration, may be an additional candidate. Huntsman ran for the Republican presidential nomination in 2012.
The New York Times reported on Sunday that John Bolton, a former U.S. Ambassador to the United Nations, and Rex Tillerson, chief executive officer of the oil giant Exxon Mobil Corp., were also under consideration. Bolton met with Trump on Dec. 2.
"It's true he's broadened the search," Conway said on Sunday at Trump Tower in midtown Manhattan. "He's very fortunate to have interest among serious men and women, all of whom need to understand that their first and foremost responsibility as secretary of state would be to implement and adhere to the president-elect's America first foreign policy and be loyal to his view of the world."
Winnowing the List
Pence, on NBC's "Meet the Press," said Trump has been winnowing the list of contenders to be the top U.S. diplomat, but that the field could also "grow a little bit."
Pence said Petraeus "is an American hero" who has paid the consequences for his mistakes.
Petraeus' extramarital affair with his biographer -- with whom he shared classified documents -- led to his earlier departure from public life and a 2015 plea deal that required him to serve two years on probation on a misdemeanor charge.
But the former four-star general, who once drew praise for his leadership in the wars in Iraq and Afghanistan, said he's continued in international work as chairman of the KKR Global Institute. In that role, he's visited nearly 40 countries, he said.
Former House Speaker Newt Gingrich, an ally of Trump, said on Fox News Channel on Sunday that filling the secretary of state post has been Trump's "hardest decision" of the transition. "Each guy has strengths but also has weaknesses," Gingrich said of the known contenders.
Before it's here, it's on the Bloomberg Terminal.
LEARN MORE