Duterte Call With Trump Seen Warming U.S. Ties After China Tilt
by and
Trump 'quite sensitive' to Philippine drug problem: Duterte

Duterte has moved closer to China and Russia in foreign policy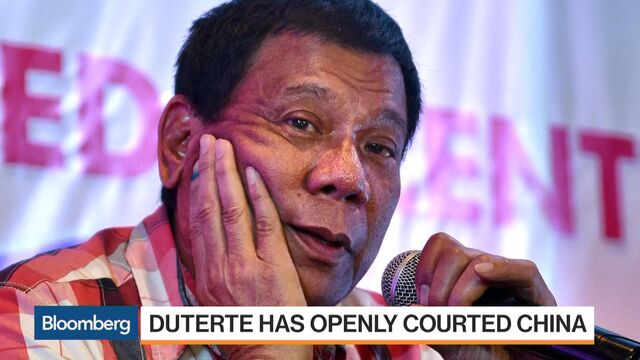 Philippine President Rodrigo Duterte, who has repeatedly threatened to break away from the U.S., praised Donald Trump and reassured the president-elect of his country's ties with America in a call late Friday.
"I could sense a good rapport, an animated President-elect Trump, and he was wishing me success in my campaign against the drug problem," Duterte said in a statement. "I appreciate the response I got from President-elect Trump and I would like to wish him success. And he wishes us well. And I said that, well, we assured him of our ties with America."

Duterte said he invited Trump to the Asean Summit in the Philippines next year and that Trump said "he will try his best to be here," according to the statement. The Philippine leader also said Trump "wants to be notified of my presence" if he visits New York or Washington. Duterte's special assistant, Bong Go, said Trump had invited the Philippines' leader to the White House.
Duterte's constructive words contrast with his attacks on the U.S. and on President Barack Obama whom he told to "go to hell" after criticism of his war on drugs. Trump was "quite sensitive" to the drug problem, according to Duterte, saying "we are doing it as a sovereign nation, the right way," and giving the Philippine leader the sense that America wouldn't interfere in his drug war, which has killed more than 3,000 alleged dealers and users.
China, Russia
"It's a good start," said Dindo Manhit, president of Stratbase-ADR Institute, a consulting company founded by former Foreign Affairs Secretary Albert del Rosario. "We're seeing that we can improve our relations with the U.S. after the strains in the past months."
Duterte has been tilting toward China and Russia in his foreign policy. While in Beijing in October, he said it could be the three nations "against the world." Before flying to the APEC gathering in Peru last month, he said he would be the first to join if China and Russia decide to create a new world order. In a meeting with Vladimir Putin in Peru, he said America and Western nations are bullying smaller countries like his and that "they are into so much hypocrisy."
"It's good for President Duterte to realize that in his pursuit of an independent foreign policy, he can't swing to the extreme and must continue to strengthen his relations with the nation's long-time allies," Manhit said.
Before it's here, it's on the Bloomberg Terminal.
LEARN MORE